Women in Tech Podcast Broadcasts Pepperdine Graziadio 50th Anniversary Women's Leadership Panel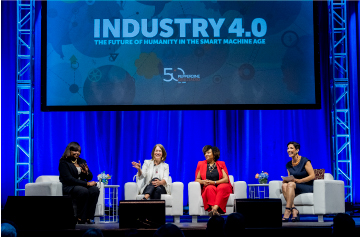 The #womenintech Podcast, hosted by WeAreLATech's Espree Devora, broadcast the women's leadership panel from Pepperdine Graziadio Industry 4.0 Conference as a featured post. The Common Ground Discussion, In Collaboration with the Center for Women in Leadership, describes the need for fresh leadership perspectives, and why women are poised to succeed as a result. Listen again to this incredible, inspiring panel discussion.
Moderator: Denise Roberson
Dalana Brand, Vice President of People Rewards and Experience, Twitter
Alison Lewis, Chief Marketing Officer, Johnson & Johnson Consumer, Inc.
Britta Wilson, Vice President of Inclusion Strategies, Pixar
The Women in Tech podcast featured and aims to encourage Women in Tech from Engineers, Female Founders, Investors, UX and UI Designers, Journalists all sharing their story how they got to where they are today. The purpose of the show is for every listener to walk away feeling 'If She Can Do It So Can I'. Devora calls it "actionable empowerment"!