Women Leaders Speaking at Pepperdine Graziadio's 50th Anniversary Event on April 2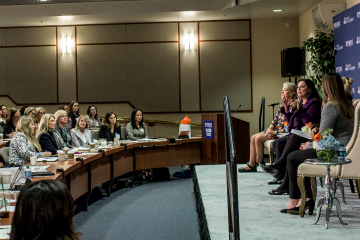 As we celebrate International Women's Day on March 8, Pepperdine Graziadio Business School is getting more excited for the great women panelists that are lined up for the school's 50th anniversary event, "Industry 4.0: The Future of Humanity in the Smart Machine Age," on April 2.
The common ground discussion "Women in Leadership," sponsored by the Pepperdine Graziadio Center for Women in Leadership and moderated by Denise Roberson from Jadi Communications, will include Dalana Brand, Vice President, People Rewards & Experience, Twitter; Alison Lewis, Chief Marketing Officer, Johnson & Johnson Consumer, Inc.; and Britta Wilson, Vice President of Inclusion Strategies, Pixar. Read the full speakers bios here.
Dr. Bernice Ledbetter, director of the Center for Women in Leadership, explains why it's the perfect time for this type of this discussion.
Also watch Pepperdine alumna Stasia Washington (PKE MBA '13) share her thoughts on how the 4th Industrial Revolution is going to change the world of work.
Join us to discover how women are defining leadership in the Smart Machine Age. Visit our 50th anniversary website to register for this special one-day event.