UBS Chief Economist Paul Donovan to Lead Dean's Executive Leadership Series Virtual Event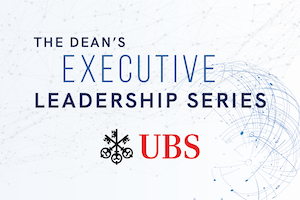 Paul Donovan, chief economist of UBS Global Wealth Management, will lead the Dean's Executive Leadership Series on Thursday, April 29, from 10 to 11 AM. Donovan will share his insights on the event's theme, "The Future Global Economy: Structural Issues and the Digital Revolution," and discuss the role the digital revolution will play in the business world and the overall economy. For 28 years Donovan has been a prominent leader at UBS responsible for developing and presenting the UBS economic outlook and marketing the UBS view on economics, policy, and politics around the world. He recently published the book Profit and Prejudice: the Luddites of the Fourth Industrial Revolution and is considered a subject-matter expert.
For more information and to register, visit the Dean's Executive Leadership event website.