Row64 and Pepperdine Graziadio Collaborate on Capstone Course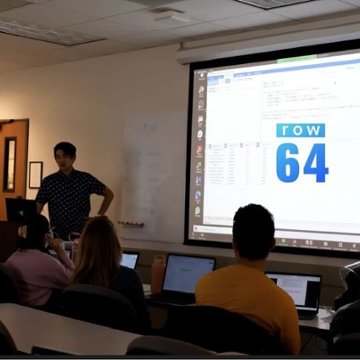 High-level analytical thinking and working with large data sets, especially with the use of the programming software Python, are skills that are increasingly more important for the modern business student. In some instances, it has become a requirement.
Thus, when Row64 approached Pepperdine Graziadio Business School for a potential collaboration, it was a natural fit. The Row64 software is a powerful tool that uses the power of graphics processing units (GPUs) and Python to increase the scale and reduce the load time for large data sets. This cutting-edge technology allows users to do large-scale data manipulation up to 100 times faster than Microsoft Excel.
Paul Trinh (MBA '21), director of product at Row 64, pitched Clemens Kownatzki, associate dean at Pepperdine Graziadio Business School, on the idea of adding the software to the powerful iLabs facility at Pepperdine. Once added, it was quickly implemented into the Business and Analytics Capstone Course taught by Alfonso Berumen, instructor of decision sciences & information.
"The finance industry is increasingly looking for finance graduates with coding skills," said Kownatzki. "If Python isn't on your resume, good luck finding a job in an investment firm these days."
By outfitting the powerful iLab computers with Row64 (available for all graduate student use) to use for big data sets, Pepperdine Graziadio is giving students an extra skillset to add to their resumes.
To learn more about the collaboration between Graziadio and Row64, click here.