Remembering Pepperdine Graziadio's Beloved Professor, Dr. Owen Hall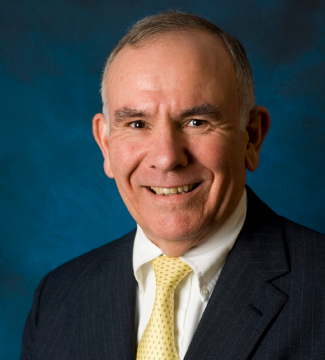 Pepperdine Graziadio Business School loses a cherished member of the Graziadio community, Dr. Owen Hall. He dedicated many years of service to Pepperdine Graziadio as a professor of decision sciences and exemplified what a genuine Best for the World Leader is. He was beloved by his colleagues, students, and friends. Dr. Hall joined Pepperdine University in 1992 and during his time with the university made a significant impact such as participating in implementing an online MBA program, as well as helping design several teaching systems including cloud-based computing models and interactive learning videos.
Dr. Owen Hall had more than 35 years of academic and industry experience in mobile learning technologies, artificial intelligence, and business analytics. He was a recipient of the Charles Luckman, Howard A. White, and Sloan teaching excellence awards. Throughout the years Dr. Hall authored several textbooks on computer-based decision-making, artificial intelligence, data-mining, and web-based learning. Dr. Hall was a Julian Virtue Professor and a Rothschild Applied Research Fellow.
Dr. Hall will be dearly missed and the Graziadio community thanks him for his contributions and influence he had on the university, faculty, and students. The faculty of Pepperdine Graziadio Business School has created a memorial scholarship in Dr. Hall's name where we are encouraging individuals to leave a thought or memory of Dr. Hall.
Words of Remembrance
He was a joy to work with, whether on research papers, committee work, teaching, or just at a workshop. His students loved him. I looked forward to every time his number showed up on my phone because I knew he would say, "CB, I have a funny for you—this will make you laugh." I will deeply miss his mentorship, intelligence, kindness, grace, and tireless work on behalf of the students, faculty, and school. May the winds of heaven blow softly and whisper in your ear, dear colleague, and friend. - Dr. Charla Griffy-Brown
JR was certainly one of a kind—intelligent, funny, articulate, passionate. On a more personal note, he was a wonderful colleague, friend, and mentor to me. He will be well remembered and greatly missed by me and many others! - Dr. Kenneth Ko
It is not so common to have a boss shape an employee's intellect, career, and future goals. But Dr. Hall did that. WIth all the projects on Artificial Intelligence, it is impossible not to learn from his wealth of knowledge. He was intentional in linking the projects with his expertise, growth opportunities, and intervention strategies which are fundamental for understanding the world of AI. - Enekole Atabo, research assistant