Pepperdine Mourns Passing of Professor Emeritus Charles Hunt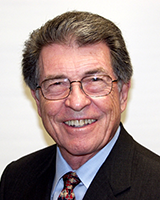 Pepperdine University is saddened to announce the passing of Charles J. Hunt, Jr., professor emeritus of business law at the Graduate School of Business and Management.
"Charlie was a good friend, mentor and respected colleague at the business school and beyond," said Ann Feyerherm, associate dean of academic affairs at the Graziadio School. "I served with him as a department chair and always appreciated his wisdom, optimism, and interest in what was best for the 'greater good' of the school. His own curiosity and passion for lifelong learning led him to innovate in the classroom so that students could flourish. He was also a successful lawyer and negotiator. Those skills combined with his love of life and care for others made him a joy to be around."
A member of the Graziadio School faculty since 1982, Hunt taught courses in negotiation and dispute resolution, ethics, and business law and had over 35 years experience as a private practitioner, corporate counsel, and business manager. He was instrumental in the writing of the original charter for the Graziadio Faculty Council and served as its first chair. Hunt also served as department chair before his retirement in 2012.
Hunt was known for his extensive trial and transactional experience in the areas of tort litigation, real estate, securities, contracts, leases, insurance, labor negotiations, state Public Utility Commission and Interstate Commerce Commission issues, employment law, and legislative advocacy. Hunt was a member of the State Bar of California, Washington State Bar, United States Supreme Court, Ninth Circuit Court of Appeals, United States Tax Court, and Interstate Commerce Commission Bar.
Throughout his decades of service to the legal community, Hunt served as Judge Pro Tem, arbitrator, and mediator for the Superior Courts in Orange, San Bernardino, Los Angeles, and Riverside counties and is a mediator on the panel of the 4th District Court of Appeal, Riverside. He had extensive private mediation and arbitration experience and was a member of the National Arbitration Forum.
Hunt earned his JD from Golden Gate University, MBA from the Pepperdine Graziadio School of Business and Management, and LLM from the Straus Institute at the Pepperdine School of Law.
A skilled arbitrator, Hunt developed a reputation in Southern California as a hardworking and patient mediator who listened carefully and produced successful results because of his ability to quickly grasp the essential facts and lead parties through the issues that created the impasse that led to mediation.
A funeral service is scheduled for Friday, January 26, at 10 AM at the Miramar National Cemetery, 5795 Noble Dr., San Diego, CA 92122.
Hunt is survived by his wife, Kathy, and a daughter.