Pepperdine Mourns the Passing of Graziadio School Professor Emeritus Edward H. Rockey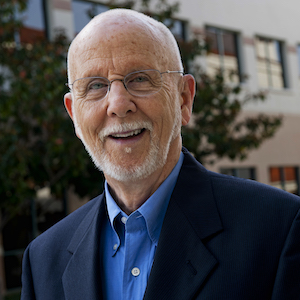 Edward H. Rockey, professor emeritus of applied behavioral science at the Graziadio School of Business and Management, passed away on Thursday, September 21, 2017, at his home in Newbury Park, California. He was 89.
Born in 1928, Rockey was raised in a lower middle class family in Queens, New York. At 17, with no plans for college, he worked as a farmer in upstate New York and later as a deckhand on Erie barge canals prior to joining the army. After serving in the military, he decided to develop a skill as a machinist—a decision that led to a breakthrough in young Rockey's thinking about his talents and his calling. With a renewed sense of self, new horizons opened up to him that drew him first to the ministry and eventually to the academy.
Rockey's multi-decade relationship with Pepperdine began with a fateful phone call in 1968 from Bill Banowsky, then-executive vice president of George Pepperdine College. Rockey officially began his career at Pepperdine in July 1970 as both a faculty member and an administrator, working with George Pepperdine College as it transitioned to become Seaver College—Pepperdine's emerging flagship liberal arts college at the new Malibu campus—and later the Graziadio School of Business and Management. After more than 44 years of distinguished service to Pepperdine, Rockey was named professor emeritus in 2014.
He presented programs on creative problem solving, communication, stress management, and leadership for corporations such as Procter & Gamble and Prudential Insurance and for smaller companies. He wrote, narrated, produced, and marketed the workbook/cassette album Successful Time Management and authored Communicating in Organizations. Rockey also lectured in several countries as well as at an international conference in New Zealand, which published his work on coaching students to write and present original, current, actual case studies, which class members attempted to solve.
Nothing pleased Rockey more than to hear from former students, as he routinely did, who expressed their appreciation for learning how to listen, engage, communicate, and collaborate.
He is survived by his wife, Molly, and his sons, John, Stephen, and Paul; nine grandchildren; and four great-grandchildren.
A celebration of life service will be held at the end of October. Details will be updated here as more information becomes available.