Pepperdine Graziadio Commemorates Black History Month: Alumni Spotlight
The Pepperdine Graziadio Business School is proud to recognize Black History Month and celebrating the achievements of Black Americans throughout U.S. history. Black History month offers us the opportunity to remember the Black figures and communities that have shaped the story for America and how to use these lessons to create a brighter future. As part of the annual celebration, we would like to share the accomplishments of some of our #PepperdineProud alumni. Please join us and support our efforts by learning more about some of our dynamic alumni who are reshaping today's business world.
At Graziadio we celebrate exemplary alumni, faculty and students who embody the values of becoming Best for the World Leaders. Pepperdine is proud to be home to the Black Alumni Council and the Black Student Association (BSA), which is committed to serving and coalescing African American alumni and students for the benefit of advancing the commonality of interests of the University while focusing on creating opportunities, and offering resources to African American alumni, students and the community at large.
Danielle Outlaw, Police Commissioner for the City of Philadelphia, MBA '12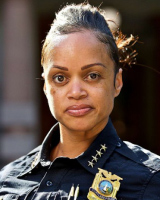 Growing up in East Oakland, California, Danielle was scared of police officers as a child. Much has changed since her childhood. Daniellea became the first black woman police commissioner for the City of Philadelphia in December 2019. As the new commissioner, Daniellea's top goal in Philadelphia is to build trust between the community and police officers. She is dedicated to ensuring all people are treated equitably regardless of gender, identity, race, ethnicity or sexual orientation.
Danielle previously served as the first black woman chief of police with the Portland Police Bureau and also spent 20 years with the Oakland, California police department. During her time in Portland she was able to use her skill set to establish peaceful protest and developing emergency ordinance to ensure a safer environment for protesters and police officers.
Danielle plans to work relentlessly to reduce crime in Philadelphia, particularly gun violence that has plagued much of the community. According to the Philadelphia Police Department's 2019 crime report, there have been 333 homicides and 2,603 shooting victims. Daniellea is determined to restore trust and rebuild a dialogue and transparency between Philadelphia police and constituents.
Danielle continues to bring a 21st century policing approach and innovative solutions to Philadelphia's crimes. To learn more visit Phillypolice.com
Meisha Sherman, Vice President of Global Human Resources for Danaher, MBA '05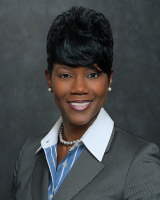 Meisha Sherman began her Human Resources (HR) career when she joined the U.S. Army National Guard. She served in the Army for six years and was responsible for the recruitment of prospective soldiers and the development and retention of existing soldiers. Once Meisha became a civilian she joined Bank of America's Business HR department where she managed and led workforce management, talent review, performance management and coaching to a progressive human resource organization.
Eventually Meisha's persistence and hard work awarded her with a HR leadership role at Fortune 10 technology company, Hewlett Packard (HP) Company. As the global director for HP, Meisha developed and delivered executive leadership and organization development, talent management, L&D and organization development strategies that built leaders and teams that drive results. With over 25 years of HR experience, Meisha now serves as the vice president of HR for Danaher Corporation, a Fortune 200 global science & technology corporation.
Meisha's greatest challenge is being a female in a male-dominated industry and being in a space where minorities are limited. Meisha dedicates her time and expertise by mentoring young women through Pepperdine Graziadio's Emerging Leaders mentorship program. She also works with the National Association of Women MBAs, veterans and HR professionals who are up-and-coming.
One of Meisha's proudest accomplishments is attending Pepperdine Graziadio Business School. Her grandfather graduated from George Pepperdine College in 1956. Prior to the Civil Rights Movement in 1964, her grandfather was one of the few African American men to graduate from college. Since her grandfather's enrollment, several family members have earned degrees from one of each of the five schools. Meisha aims to continue providing top-tier leadership training, empowering young women to reach their career goals and to continue serving the community.
Denise Morris Kipnis, Founder and Principal of ChangeFlow Consulting, MSOD '08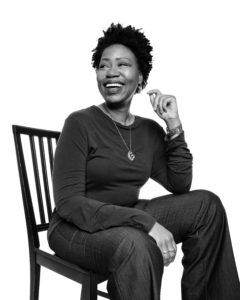 Driven by curiosity, Denise Morris Kipnis has always been a system thinker and seeing all the pieces that build the bigger picture. Denise enjoys helping people and organizations move through the complexity of transformation and inclusion. Using behavioral science, change management and process consultation, Denise founded her owner company, ChangeFlow Consulting, to help companies become more agile and effective.
In 2017, Denise became a founding member of KeyNote - Asia's Women Speakers, with the goal to bring more female and minority speakers to stages that lack diversity. Prior to starting her own consulting business, Denise worked as an intranet site manager for the Bill & Melinda Gates Foundation.
Denise shares with organizations and the public why inclusion is so powerful and important for organizations that want to be sustainable. Denise challenges organizations to focus more on creating a system and environment where people of all backgrounds can do their best work, contribute openly and have an equal chance to succeed. Appreciation is the key incentive for employees and how to build a successful and long-lasting organization. Denise challenges organizations to step away from focusing on diversity in numbers but instead bringing different people in a room and using everyone's skills.
Denise challenges individuals and organizations to look beyond the 30,000 foot view and to see the ecosystem. Study the space in between, the micro and macro level. Begin by including the entire organization and use their perspectives, ideas and thoughts as data points. From there organizations will unleash hidden talents and what their organization is truly able to accomplish.