Pepperdine Graziadio Business School Mourns the Loss of Richard Powell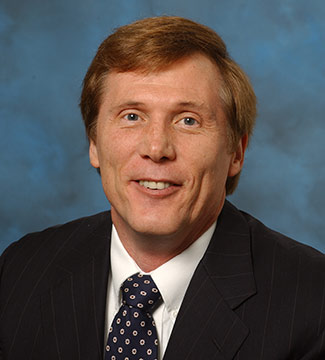 Pepperdine Graziadio Business School is saddened to share the tragic news of the passing of esteemed faculty member Richard Powell. The University has learned that Dr. Powell passed away earlier this week.
Dr. Powell was a member of the Graziadio accounting faculty for more than 25 years, joining the Pepperdine community in September 1996. As associate professor of accounting, he taught numerous courses through the years including financial accounting, managerial accounting, and taxation. He had more than 20 years of consulting experience in the fields of accounting, taxation, law, and finance. He was also a practicing attorney with significant experience in commercial law, real estate, litigation, and taxation.
Reflecting on Dr. Powell's life, his colleague and friend Augus Harjoto shared, "Richard was raised in the Midwest from a blue-collar family and proud of being an accomplished lawyer, accountant, and professor. Richard was a good friend and colleague, and his students will remember him as a teacher who believed in teaching valuable knowledge. He loved dogs and was devoted to helping his brothers and sister in time of need."
Abraham Park remembers, "Richard was a valuable member of our accounting department. He was a hard worker and kind, a dedicated tenured professor, and always had so much to share. He was a great colleague and was always supportive of Pepperdine's mission to the fullest extent."
Robert Lee shared, "Richard was a caring and kind individual. He was a pleasure to work with and was a great team player within our department. He will be remembered and missed by his students and colleagues."
Lastly, Steve Ferraro said, "I am very saddened to learn of the passing of Richard. I have known him for over 20 years and whether we were working together on research, on committees, or on developing courses or programs he was always on top of things and would contribute interesting and insightful comments. Finding a colleague and friend of his caliber is always a challenge. He blessed many lives and will be missed."
An accomplished academic and practitioner, Dr. Powell received a PhD in accounting from the University of Arkansas, a JD from the University of Illinois, an MBA from the University of Washington with concentrations in accounting and finance, and a BA from Carroll College. He was a licensed attorney, a member of the Washington State Bar Association, and a certified public accountant.
As we celebrate Dr. Powell and the extraordinary contributions he made to the Graziadio community, we offer our condolences to his family, friends, and loved ones during this especially difficult time.