Pepperdine Graziadio Business School Associate Dean Featured in Day in the Life Career Guidance Article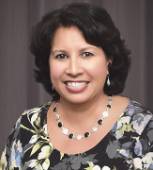 Dr. Charla Griffy-Brown, Associate Dean of Executive and Part-Time Programs and Professor of Information Systems and Technology Management at Pepperdine Graziadio Business School, was featured in a new article for OwlGuru, a resource for individuals looking to learn more about different career pathways.
In the article, Griffy-Brown discusses what a typical day in her position as assistant dean looks like, and describes some of the exciting activities she's able to participate in as part of her role.
"Working with brilliant and interesting colleagues to solve critical problems that we face this century is a huge plus. We work on better ways to keep our digital world safe and technology that provides significant benefits that help us together create a more equitable and sustainable society. Most importantly, as a teacher, the opportunity to build relationships and help people be successful and contribute to our world in meaningful ways is the highlight."
The full article is available here.