Pepperdine Graziadio Announces DBA Dissertation Defense
Artificial Intelligence: Taking the good with the bad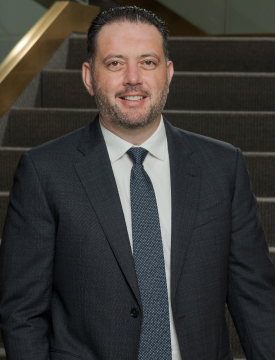 Earlier this month, George Dagliyan, Doctor of Business Administration (DBA) candidate defended his dissertation research on "Adoption of AI-Enabled Technology: Taking the Bad with the Good". Dagliyan completed his research under the guidance of his dissertation committee which included Cristel Russell, Nelson Granados and Kathleen Grave, all from Pepperdine Graziadio.
AI-enabled technologies have become increasingly available in today's market, from self-driving cars to smart homes and manufacturing robots. At the same time, consumers are faced with weighing the risks and benefits of these new technologies. Under this lens, Dagliyan's DBA dissertation argues that while we acknowledge the existence of these complex relationships, prior research has not accounted for the coexistence of these inhibitory and facilitatory factors, or how they may affect consumer's intentions to use AI-enabled technology. Dagliyan's research conceptual model addresses these complex relationships and integrates the role of subjective ambivalence and brand trust. The findings show that the coexistence of the two factors breed indecision, which itself affects the adoption of novel technology, and furthermore, that brand trust also plays a critical role in a consumer's willingness to adopt new AI-enabled technology.
Dagliyan presented his dissertation defense on Thursday, July 8, 2021, via Zoom to Pepperdine Graziadio faculty, staff, and other DBA students.
More information on George Dagliyan's work and education can be found on his LinkedIn.