National Entrepreneurship Month: Celebrating Best for the World Graziadio Alumni Entrepreneurs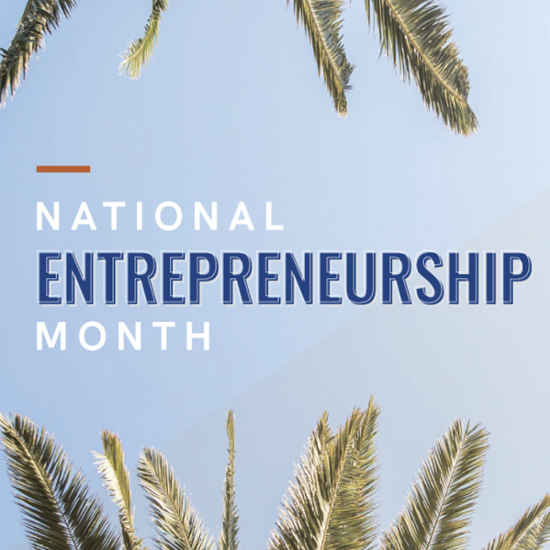 November 2022 is National Entrepreneurship Month, a celebration of trailblazers willing to chart new frontiers in business across the country. As part of this national observance, Pepperdine Graziadio Business School is highlighting the achievements of the following six alumni this month, wishing them continued success as they embody the values of "Best for the World" leadership: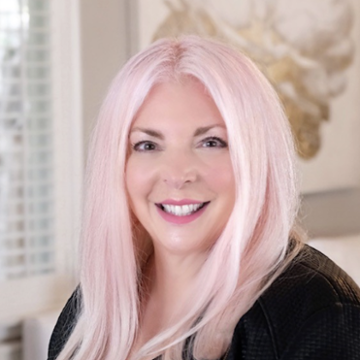 Kimber Maderazzo (MBA '10, PKE 123), Executive Chairman of C200 and Founder of MILLI ROSE Beauty
Kimber Maderazzo currently serves as the executive chairman of C200 (The Committee 200), a preeminent women's leadership organization focused on creating, inspiring, educating, celebrating, and advancing current and future women entrepreneurs and corporate leaders.
With over 25 years of experience in the beauty and cosmetics industry, Kimber is the former executive vice president and general manager for the world's #1 acne brand, Proactiv. Prior to working at Proactiv, she was the senior vice president of global product marketing at Guthy Renker, where she created a number of brands for the company's portfolio and developed dozens of consumer products in beauty, skincare, entertainment, and wellness categories. Kimber is also an operating executive for top private equity and venture funds and most recently led a privately held company into sale to a Fortune 100 company.
After a distinguished corporate career, Kimber wanted to break away from the corporate world to build something for herself. She started a new venture as a business owner and is the founder of MILLI ROSE Beauty.
"I am so fortunate to be part of the Pepperdine community in so many ways as a Distinguished Alumni recipient, board member, PKE graduate, and most importantly a professor of marketing. My activities at Pepperdine allowed me to advance in the corporate world and inspired me to become an entrepreneur. I now have a growth mindset that is a powerful business tool that helps to foster talent, create innovation, and reap real results."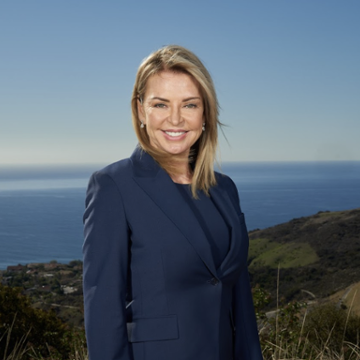 Laura Sharpe (MBA '18, PKE 140), CEO and Founder of Artists for Trauma
Laura is a thriving miracle following a tragic 2008 helicopter crash where three precious lives were lost and she was left with immediate disfiguring, disabling injuries. Focusing on the future, and feeling grateful for all the love and support she was blessed to receive, Laura embarked on a journey of re-discovery through a personal engagement with the arts. From her work with esteemed artists in the areas of photography, film, dance, sculpture, and music, Sharpe was able to rise above and beyond her pain and dramatically improve the quality of her recovery through the creative interaction between herself and the artists.
Sharpe's first artistic exhibition entitled, The Laura Project: "Re-Membered" Interpretations of Reconstruction, was showcased at the renowned James Gray Gallery in Santa Monica in 2011. The event featured the emotional works of art co-created by Sharpe during her recovery.
Inspired by her physical and emotional transformation, Sharpe was compelled to help other trauma survivors find strength in their recovery, regain a sense of hope, and see the beauty in life. In 2012, she founded a 501c3 non-profit, Artists for Trauma (AFT), creating a signature brand of empowering, interactive, adaptive art and entertainment venues based on her personal healing through art recovery experiences. She has been blessed with a diverse range of personal and professional learning opportunities and feels lucky to be guided and mentored by many successful business people; some self-made, some highly educated, all corporate executives, business owners and wonderful human beings. In addition to being board president of AFT, she is also a board member for Healthcare Foundation for Ventura County, and a board trustee for The Riverside Art Museum and The Cheech.
"I am truly blessed to be a Wave alumni and consider this a gift with responsibility. Everything I have I owe to the blessing of God's Grace, family, friendship, and community collaboration. No one gets anywhere alone. Together we can be more, do more and serve more human beings and communities in need. Together we rise and manifest solutions. My experience with the Graziadio PKE MBA program, professors, cohorts, and academia curriculum provided an opportunity to structure myself more effectively personally and professionally as a CEO. The applied knowledge allowed me and our team to scale the Artists For Trauma nonprofit programs to a more effective and comprehensively inclusive, trauma resource provider locally and nationally."
"Our signature aim is to expedite recovery through artistic expression, human connection providing a creative portal for trauma survivors to process complex emotion, regain confidence and rebuild self-acceptance after suffering life altering trauma."
Creativity. Connectivity. Community.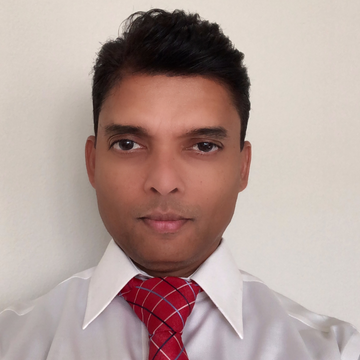 Gajaba "Gary" Hewamadduma (MBA '04), CEO of CFO Plans
Gajaba is the CEO of CFO Plans Inc., a national accounting services brand. Gajaba has utilized his humble background and multifaceted early life experiences to his advantage in becoming a successful entrepreneur. Growing up in Sri Lanka, Gajaba taught himself how to be resilient, manage resources in the hardest of times, and be content while dreaming big.
Fast forward to the start of his career in the United States, he garnered valuable experience in an array of industries, working for companies that ranged from Fortune 500 to early stage. This experience not only taught him industry best practices and gave him unparalleled professional exposure, but also an opportunity to learn about the pain points in the service consulting space by being on the receiving side of it. That paved the way for his first start-up, CFO Plans. Today, CFO Plans is one of the fastest-growing companies, with over 100 professional-grade employees and aggressive plans to double its employee count and quadruple its revenue in the next two years.
As a natural progression, Gajaba is involved with a few other service-based entities as an owner, investor, and advisor. Currently, the total portfolio boasts over 300 professional-grade employees.
"Pepperdine Graziadio is a breeding ground for entrepreneurs, a school that truly guides you to look beyond classroom education and attain your true potential. Going in, I thought that I would not learn anything new in finance given my background education as a management accountant, but my finance professor Dr. Crawford was very eloquent in making us understand that finance is something beyond just number crunching. You may learn a lot, you may learn a bit, or you may even learn nothing new at a theoretical level depending on your prior education, but what sets Graziadio's MBA program apart from the rest is the absolute demand to apply the knowledge in real life."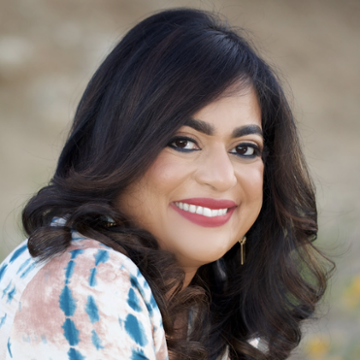 Sumudu "Sue" Weerasinghe (MBA '04), Founder and CEO of Invoisync, LLC.
Sue Weerasinghe is the Founder and CEO of Invoisync, LLC, a California-based company that operates in all 50 states, with over 50 team members. She is passionate about helping medical practices thrive with exceptional medical billing and RCM services.
With an academic background in finance, Sue started her career as an associate at Ernst and Young and continued to rise up the corporate ladder in a myriad of industries in numerous capacities until she reached the chief accounting officer role at a nationally recognized real estate investment trust. With the executive experience she accumulated, Sue finally unleashed her entrepreneurial spirit in early 2020 by founding Invoisync.
Asked about the journey, Sue said "building up Invoisync was a delightful diversion to utilize the potential of a fast-growing, never dying market. I think my Pepperdine Graziadio MBA made an immense contribution to this journey."
"Hailing from a British educational background, the MBA program unlocked insight into the US scholastic environment. Secondly and more importantly, it exposed me to a more diverse, proficient group of peers and educators. From the stern voice of Dr. Gertmanian saying something like 'earn well and pay the damn taxes!' to Prof. Rainey's more decisive delivery about the law of the land, interacting with everyone was an amazing experience."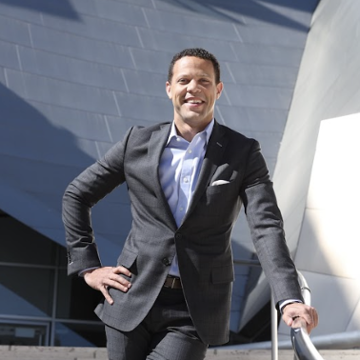 Trae Francis Smith (MBA '20), CEO and Founder of PowerHaus Agency
Southern California native Trae Francis Smith is the CEO and Founder of PowerHaus Agency, a premier sports agency based in Los Angeles, representing NFL and NCAA athletes. In just under nine months of its launch, the agency has signed over 30 athletes.
Smith is a Pepperdine Graziadio alumnus from the Class of 2020. Prior to earning his MBA from Graziadio, Trae received his Bachelor of Arts degree from the University of California, Los Angeles (UCLA) where he was also a student-athlete on the varsity football team. While an athlete at UCLA, Trae simultaneously began his career in the private wealth management sector at Oppenheimer. Trae believes that managing his demanding work schedule along with the academic rigors of an NCAA Division 1 athlete ultimately prepared him for the work-by-day, school-by-night structure of Pepperdine Graziadio's Fully Employed MBA program.
In addition to running his sports agency, Trae specializes in luxury estates (Compass) in partnership with Craig Strong.
"Are you willing to sprint when the distance is unknown? As an entrepreneur and leader, you must be willing to go the distance for your business. Whether it's wearing multiple hats in an organization such as marketing, finance, or operations, to name a few, or trying to scale the business with limited resources, I think it takes an impressive amount of courage to believe in something that has no guarantee of succeeding."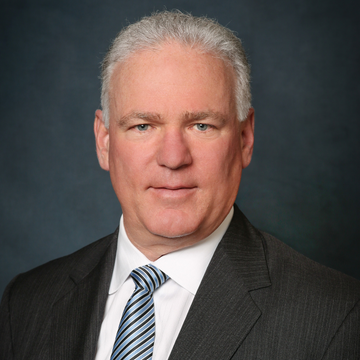 Dr. Michael Cusumano (EMBA '95, DBA '22), Managing Director, Cusumano Real Estate Group
Dr. Michael Cusumano is the managing director of the Cusumano Real Estate Group, a privately owned real estate development and investment company in Southern California. Established in 1959, the family-owned and family-operated Cusumano Real Estate Group is the San Fernando Valley's leader in apartment rentals, office leasing and active senior living. The real estate group is the largest owner of multifamily apartments in the Tri-Cities region of Los Angeles.
Michael has been actively involved in real estate development and investment in the Los Angeles region for more than 40 years and has developed some of the most noteworthy projects in the region. Michael is also an active philanthropist and a board member for more than a dozen community organizations, including his role as the chair of the board of governors of the Providence Saint Joseph Foundation and has been an active benefactor of Providence for decades, most recently supporting the construction of the Cusumano Family Urgent Care Center which will open in 2023.
Along with his EMBA and DBA from Pepperdine Graziadio, Michael is a graduate of UCLA.
On entrepreneurship, Cusumano said, "entrepreneurial success not only requires the ability to see an unmet demand, but the ability to successfully meet that demand. And effective entrepreneurship requires that the entrepreneur refine that objective into a vision that can be identified as a common goal of an organization. Leadership is the art of motivating a group of people to act to achieve that common goal, and therefore, leadership is an essential skill in entrepreneurial success. Pepperdine Graziadio Business School teaches its students, among other things, the value and pathways to effective leadership."
"In my role as business leader or philanthropist, being able to define the correct common goal to pursue and then being able to motivate a group of people to act together to achieve that common goal have been the keys to the success in my career."