A Message from Dean Deryck J. van Rensburg on Standing Together for Justice
Dean Deryck J. van Rensburg sent the following message to the Graziadio community on Thursday, June 4th:
Best for the World Leaders Stand for Justice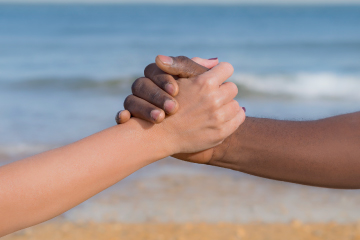 I want to express how deeply grieved we are as a school by the ongoing acts of racial injustice and violence we are witnessing in our city and throughout the nation. Affirming what so many of my colleagues have shared in recent days, we are horrified by the killing of George Floyd, as well as the recent deaths of Breonna Taylor and Ahmaud Arbery, who continue to represent the history of racial violence against Black people around the country. To the Black community in our Graziadio family, know that we see you, we hear you, we stand with you, and we are committed to taking direct, substantive action to advance diversity, equity, and inclusion at this school and in our communities.
At the Graziadio Business School we believe that all people are created in God's image and called to do God's work in this world by loving one another. As your dean, I want you to know that we are united in the belief that any and all forms of racial violence or oppression are despicable and completely unacceptable. We know that we have work to do in our school, in our city, and in our nation, and the Graziadio community will be—must be—part of that long overdue change.
As we prepare the roadmap for the actions we will take to advance change, yesterday, on June 3, 74 members of our community came together in solidarity to humble our hearts and pray for our world and all those who have been impacted by racism in any form, and especially for each and every Black life during this time. We wanted to begin the journey of change with repentance, forgiveness, and humility. We prayed for God's grace and wisdom to guide us in effecting immediate change toward justice and peace.
Immediate actions we are now taking include plans to create forums for discussion among our students, faculty members, and staff colleagues. We believe that robust, vigorous dialogue has the power to foster compassion, hope, and transformation. We want to create a safe space to freely discuss recent events, and we need everyone to participate. We know that this dialogue will not be comfortable or easy, but hearing the voices of our community is necessary to implement real change.
We have a high calling—to develop leaders that make a positive impact on business, local communities, and society at large through ethical and innovative ideas and actions. Best for the World Leaders are driven by a deep sense of justice. While cherishing the sacred dignity of every human being, they are also champions for those hurting and most in need, which right now include our Black brothers and sisters. All of us at Graziadio must embrace our responsibility to address systemic injustices in our society and in our own community.
As we embark on this journey, the Graziadio Business School's Diversity Council will begin to engage our faculty, staff, and students, and if you feel called to do so, I invite you to share your ideas and suggest actions to help us shape the agenda for change. This council reports directly to me, and I look forward to gathering critical feedback as we begin to implement new solutions.
Furthermore, we are committed to creating change through education and research. We will schedule new programs and training events that address micro-inequities, implicit bias, equity in education, hiring practices, and global justice. We will keep you updated on these initiatives as the year unfolds.
As we leverage our collective heart and mind, let us heed the wisdom of Martin Luther King, Jr.:
"It would be both cowardly and immoral for you to accept injustice . . . But as you continue your righteous protest . . . be sure that the means you employ are as pure as the end you seek. Always be sure that you struggle with Christian methods and Christian weapons. Never succumb to the temptation of becoming bitter. As you press on for justice, be sure to move with dignity and discipline, using love as your chief weapon. Let no man pull you so low that you hate him. Always avoid violence. If you sow the seeds of violence in your struggle, unborn generations will reap the whirlwind of social disintegration."
Deryck J van Rensburg
Dean