In Memoriam of Wayne Strom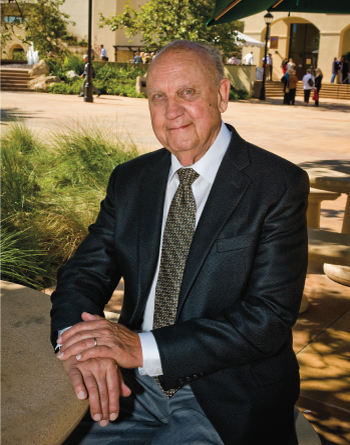 It is with a very heavy heart that we share news of the passing of our beloved and distinguished emeritus professor of behavioral science, Dr. Wayne Strom. Pepperdine Graziadio received the news from his wife, Kathy, that he passed on Thursday, April 2.
"We were blessed to learn many valuable lessons from Dr. Strom in the course of his 50-year relationship with the Graziadio School," said Deryck van Rensburg, dean, Pepperdine Graziadio Business School. "Dr. Strom showed that the beauty of great ideas are born from inspiration and demonstrated in real-world impact."
Dr. Strom was a Best for the World Leader whose achievements at Graziadio endure today. Dr. Strom became a full-time faculty member in 1970. In 1971, he was one of three founders of the prestigious Pepperdine Presidents and Key Executives MBA Program. From a trailer across from the law school, Dr. Strom planted the seeds for the success of the Full-Time MBA which eventually found a home on the Drescher Campus.
"It was Wayne's initiative, determination, and commitment that ignited the flame. It was my privilege to be part of his vision," said Mark Mallinger, emeritus professor of applied behavioral science.
He modeled a "today, not tomorrow" approach in his time as associate dean and director of graduate programs, launching numerous initiatives and serving as Chair of multiple academic committees. Many attributes that distinguish Pepperdine Graziadio are reflections of Dr. Strom's groundbreaking work in areas such as 'high impact listening,' and 'non-reactive conflict resolution.'
"Wayne and I had many breakfasts, lunches, and dinners talking through these issues as our school worked together to maintain its uniqueness while demonstrating the necessary attributes for AACSB accreditation," said Otis Baskin, former dean, emeritus professor of management. "Working opposite of 'industry standards' down from PKE to EMBA, FEMBA, and Full-Time MBA programs had created a very different focus on management education - the executive."
He coached, assessed, and taught leadership to more than 1,500 company presidents and senior executives, energizing teams to transform corporate culture. He encouraged thousands of student-professionals to prioritize human spirituality in the pursuit of goals and encouraged success in the corporation and in life.
"Wayne cared deeply about the personal development of his students. Countless professionals have been "Stromitized" through their participation in Wayne's behavioral workshop," said David M. Smith, professor of economics.
"Wayne was a one-of-a-kind, focused, and confident individual. I am privileged to have known him."
Dr. Strom expanded others' capacity for understanding and compassion. He founded the Pepperdine Civic Leadership Project in 1986, championing public engagement to build stronger communities. He was heavily involved with the Hope of the Valley Rescue Mission in Mission Hills and he worked tirelessly to enlist executives in coaching employable but unemployed and homeless men and women in developing job search skills. Many senior-level executives count Dr. Strom as a caring mentor, fully present in the moment, who practiced the simple principle of ``it is not necessary to react."
Equal to Dr. Strom's interest in helping students learn was his passion for helping colleagues grow.
"Wayne would contact me out of the blue because he'd remembered a fragment of a conversation and thought he might have discovered information or resources that I would find helpful," said Miriam Lacey, professor of applied behavioral sciences.
"He was a man of faith and had a deep spiritual life of great meaning. I was fortunate to have him as my mentor and friend."
Dr. Strom touched many lives for good during his exceptional career as a professor, executive coach, and civic leader. We are deeply saddened by his passing and our heartfelt thoughts and prayers go out to Kathy and his extended family at this time.
In the spirit of helping others, there are two recognition opportunities requested by the Strom family in lieu of flowers. For remembrances and donations to the Pepperdine PKE Wayne Strom Leadership Endowed Fund, a website is available here. Donations can also be made to Hope of the Valley Rescue Mission in Mission Hills online or via mail Hope of the Valley Rescue Mission, PO Box 7609 Mission Hills, CA 91346.
Please join us in expressing our gratitude for Dr. Strom's immense contribution to the Graziadio Business School and the wider Pepperdine community.