Jeremy Evans, Pepperdine Graziadio Business School Student and Pepperdine Caruso School of Law Alum, Publishes Article in Los Angeles Lawyer Magazine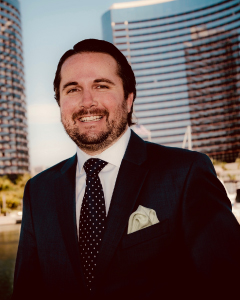 Jeremy Evans, Pepperdine Graziadio MBA student and Pepperdine Caruso School of Law alum, authors an article, Rewarding Student Players, on the new law Fair Pay to Play Act (FPPA). In September 2019, California Governor Gavin Newsom signed into law the FPPA, allowing college athletes playing a sport at academic institutions to make $10 million or more in media rights annually.
The new law also allows student athletes to retain services of an agent and/or attorney to help them obtain and secure such deals. In late 2019, the National Collegiate Athletic Association (NCAA) board of governors voted to remove restrictions on students competing as member institutions, allowing them to profit from their names, images and likenesses. This foundational change of course pursuant to the California legislative effort and the NCAA opened opportunities for student athletes to make money while playing college sports.
As the founder and managing attorney at California Sports Lawyer in California, Jeremy shares five important concerns and issues about implementing and enforcing the FPPA.
The law raises questions about implementation when looking at how the NCAA, conferences, individual universities and student athletes will or will not be regulated.
What about minor league player development?
Does the FPPA go far enough or does it go too far? Especially with the student-athlete annual caps and limitations on existing deals with the universities that are mostly exclusive.
If student-athletes hire an agent or attorney, is it a full or partial service?
What is amateurism in the wake of SB 206?
The FPPA in California sparked great conversation, transformed what student-athletes are capable of financially obtaining and raises questions about NCAA involvement in regulation under the new rules. Read more.