Graziadio's Dr. Wayne Strom Honored in A Virtual Tribute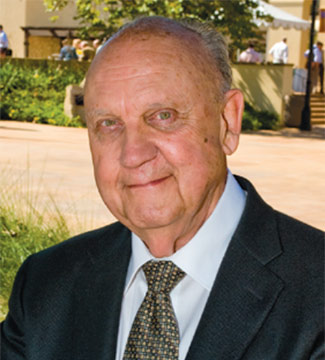 The Pepperdine Graziadio Business School mourned the loss of Dr. Wayne Strom earlier this year, who passed away on April 2, 2020. Dr. Strom was a much loved and distinguished emeritus professor of behavioral science, and was the embodiment of a "Best for the World Leader," helping countless Graziadio students learn and embrace the importance of leading through meaningful service to the community and social engagement.
To honor his legacy, several Graziadio Presidential Key Executives (PKE) alumni organized a virtual tribute for Dr. Strom on August 5, 2020. The tribute featured speeches commemorating Dr. Strom's unique leadership skills and desire to drive lasting, positive change. Ken Craft, CEO of Hope of the Valley Rescue Mission (an organization Dr. Strom was very passionate and involved with) spoke fondly about Dr. Strom and shared the following story about an encounter between the two of them several years ago, when Dr. Strom asked Mr. Craft to bring twelve to fourteen individuals experiencing homelessness to the Graziadio campus in Malibu:
I remember the first time thinking "Oh my gosh, who am I going to take there?" I felt like there was a huge chasm between the people I work with every day that were struggling and striving to survive (...) I wasn't quite sure if he knew what he was doing. (...) I remember when we took our homeless guests there, they were rather intimidated at first. You could see they didn't want to break apart, but eventually Dr. Strom had everyone break off. It was the first of many years that I began to see how powerful it was when people took time to invest into someone else's life and that's what Wayne did. He always took time to invest into others. (...) What Wayne really wanted was for us to get beyond just success and tap into significance.
In honor of Dr. Strom, the Hope of Valley Rescue Mission named one of the rooms in their new 85-bed shelter in North Hollywood in Dr. Strom's honor. In preparation of the shelter opening, Mr. Craft sent out a request for volunteers and to his surprise, among the volunteers was one of the individuals that participated in Dr. Strom's PKE class. Inspired by Mr. Strom's class and the overall experience, the individual was inspired to successfully find a job, permanent housing, and create a better life for himself.
The Graziadio community is grateful for the time and privilege of having Dr. Strom as a part of our dedicated faculty.
For remembrances and donations, visit the Pepperdine PKE Wayne Strom Leadership Endowed Fund website.