During a Time of Crisis, Hedley & Bennett Innovate to Address Face Masks Shortage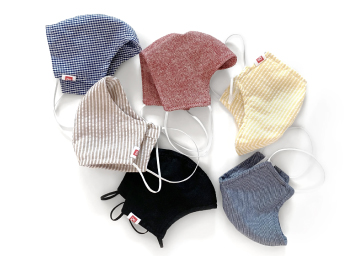 Hedley & Bennett, a fashion and kitchen apparel brand based in Los Angeles, quickly realized in order to stay in business and continue employing 30 employees, they were going to have to innovate. Inspired by designer Christian Siriano, who had started making face masks to tackle the shortage, Hedley & Bennett began making personal protective gear. Owner Ellen Bennett partnered with Robert Cho, chief of staff for Shriners for Children Medical Center in Pasadena, to create a prototype of a mask in a single day and began repurposing the factory to start mass-producing face masks. While the masks are not medical grade, Ellen envisions them for people in less risky circumstances who still need to interact with others on a daily basis, such as those working in commercial kitchens.
Shane Gelinas, director of sales for Hedley & Bennett and Pepperdine Graziadio Executive MBA (EMBA) student, shares how many of the skills and tools he learned from the EMBA program prepared him to pivot, create new price structure, sales strategy and gear up. "I learned a lot about my leadership style and my skill set in Organizational Behavior. You learn about yourself in times of crisis and the lessons I learned at Pepperdine prepared me to face the challenges the unique situation Covid presented. Finance and Econ helped me understand how best to set up pricing to ensure our margins were healthy enough to withstand financial uncertainty and instructed the sales strategies we implemented."
Aviv Gattenuo, senior manager of brand marketing at Hedley & Bennett and Pepperdine Graziadio alum (MBA '08,) was part of the company's massive pivot and was tasked to create a strong social media campaign and marketing strategy to showcase the company's new face masks. Aviv launched the company's "Buy One Give One" campaign which helps Hedley & Bennett's customers raise money and collectively donate over 200,000 face masks.
Shane and Aviv both shared how they use lessons learned from the MBA program in their everyday professional life. "Coming in with real world leadership experience has made the topics we cover much more impactful than if they were solely academic. I can use my experience as context to add nuance to the subjects we are studying, and find real life ways to put my learning directly into action. I wouldn't have been able to manage this crisis and the opportunities it presented to me and my company without the lessons I've learned in my time here at Graziadio," said Shane.