Dr. Thomas Dudley - In Memoriam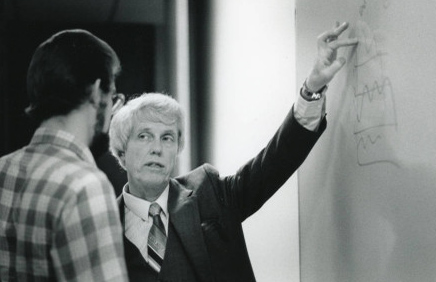 Pepperdine Graziadio Business School and the Graziadio community mourns the loss of beloved Dr. Thomas Dudley, emeritus professor of decision sciences, who passed away on October 30, 2020. Dr. Dudley began sharing his unique knowledge on quantitative methods and decision systems to benefit management and business problems when Graziadio was founded in 1969. In 1970, Dr. Dudley taught the first class of what eventually became the Presidential/Key Executives (PKE) MBA Program at Pepperdine Graziadio Business School.
"Tom was one of my first professors at Graziadio and he made a profound positive impact on my learning journey and helped me realize that earning my MBA was going to be a transformative experience. As one of the first faculty at the business school he has left a lasting impact on many. I was fortunate to count him as a friend and work with him on several companies post graduation." — Dr. Kyle Murphy, Practitioner of Strategy

"Tom was a Life Associate in the Pepperdine Associates and I think that demonstrates how committed he was to the success of this institution! He always seemed upbeat and thoughtful, positively contributing to the health and energy of the school." — Dr. Ann Feyerherm, Professor, Organization Theory and Management

"Dr. Thomas J. Dudley had been my mentor for nearly 40 years. Thomas helped launch the Graziadio Business School in 1969. We first met at our then main campus in downtown Los Angeles. Thomas had a warm and can-do approach with his colleagues and staff. He always took a keen interest in his student's learning and overall welfare. TD, as he was affectionately known, helped pioneer several new programs including the Executive MBA. He was also a strong supporter of faculty development. TD, a big USC football fan, will be missed. Fight On!" — Owen P. Hall, Jr., Professor of Decision Sciences
Dr. Dudley received various awards during his lifetime including the Harriet and Charles Luckman Distinguished Teaching Fellows Award for 1994-95, the Who's Who Among America's Teachers Award for 1998 and again in 2005. He is known for his decision tree strategy to aid organizations in strategically selecting an uncomfortable, difficult organizational decision. Dr. Dudley is survived by his wife Kathy, his son, daughter, and four grandchildren.