Dr. Bernice Ledbetter Recognized as a Trailblazer by Leadership California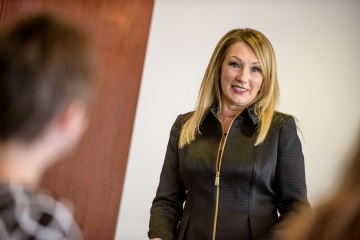 Dr. Bernice Ledbetter was recognized as a trailblazer at Leadership California's 2019 Legacy of Leadership Awards on May 6 in Los Angeles. The Legacy of Leadership Awards celebrate women, companies, and one man, who lead the way through civic, business and service achievement, while advancing and supporting women leaders. Specifically, the Trailblazer Award honors a woman who demonstrates a spirit of exploration and passion that leads the way for others.
Dr. Ledbetter is director of the Pepperdine Graziadio Center for Women in Leadership and was recently appointed dean of students and alumni affairs at the Graziadio Business School. She is a recognized expert on women in leadership and was recently a keynote speaker at NAWBO California's annual conference.
Leadership California works to increase the representation of women leaders and elevate their influence in business, public service, and local communities across the state. Dr. Ledbetter joins other individuals and corporations who have made significant contributions to support the advancement of women including the other 2019 honorees: Gloria D. Gray, Chairwoman, Metropolitan Water District of Southern California; Director, West Basin Municipal Water District; Dr. Timothy P. White, Chancellor, the California State University; Dr. Lucy Jones, Founder, Dr. Lucy Jones Center for Science and Society; and Monica Lozano, President/CEO, College Futures Foundation as well as Southwest Airlines.