Alum Monzerrat Brunkhorst Launches Buy Local Program in Santa Monica to Help Small Businesses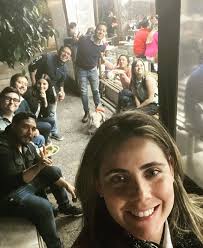 The past six months have impacted people and businesses from all over the world. As the pandemic continues to alter consumer behavior, many small business owners are struggling to keep their lights on. To aid small businesses and to encourage people to buy local, business owner of Cafe du Mundo and alum Monzerrat Brunkhorst (MBA '17) came up with a creative idea to get people out and supporting small businesses: a local business scavenger hunt.
Beginning October 1, the City of Santa Monica Buy Local campaign will award the scavenger hunt winner a prize of $1,000 as well as announce weekly giveaways on the Santa Monica Instagram.