Alum Amy Towner Authors Opinion Piece on the Important Role Businesses Have in Suppressing COVID-19 in Pacific Coast Business Times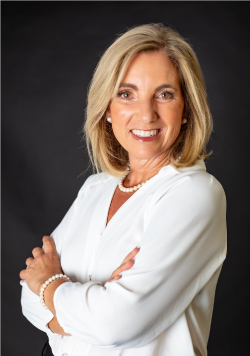 Amy Towner, CEO of Health Care Foundation for Ventura County and recent PKE MBA alum, authors an op-ed on the important role businesses play in slowing the spread of COVID-19. In response to California's increasing COVID-19 cases, Governor Gavin Newsom reintroduced restrictions on public venues and ordered to close all indoor operations at bars, wineries, tasting rooms, movie theaters, family entertainment centers, zoos, museums, and cardrooms.
Over the last few weeks, Ventura health officials have confirmed 1,910 new COVID-19 cases -- which is relatively good news compared to other California counties. Though Ventura's cases are currently below the 100 per 100,000 residents threshold, Ventura local businesses play a critical role in the continuation of curbing COVID-19 cases. Research conducted in mid-April by the Gallup polling firm found 52 percent of employees strongly agree that their employer has communicated a clear plan of action in response to COVID-19, an improvement of 15 percentage points from the mid-March research. As California enters the sixth month of sheltering-in-place, Amy offers lessons for business leaders on how to protect their employees, families and influence social behaviors to aid in flattening the curve:
Act, do not lecture. Healthcare organizations were fast to act in identifying immediate problems like shelter and food for essential health care workers. Local businesses can proactively prepare for the needs of employees and customers by providing a clear plan of action and clear communication of the plan. Businesses can also influence general social norms by enforcing facemasks, decreasing the spread of COVID-19.
Work collaboratively. Communities that work together improve compliance and outcomes. During the onset of the pandemic, Ventura County Health Care Agency immediately sought out best practices from experts managing COVID such as the University of Washington.
Redefine work and work settings. Local employers are having to transform the way they do business and what the office environment looks like. Fortunately, all businesses are going through this and there are several no-cost resources like the Society for Human Resources Management.
To read the full article click here.