Alma Derricks Joins the Pepperdine Graziadio Business School Board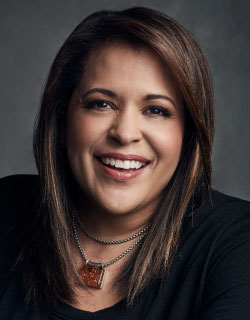 Pepperdine Graziadio Business School is excited to welcome Alma Derricks to the board. Derricks is an accomplished business and brand strategist with more than 20 years of experience building inventive new businesses in the media, entertainment, and consumer products industry. She is the founder and managing partner of REV, Brand Entrepreneurship™ company that partners with accomplished creators, founders, boards of directors, and leadership teams to sharpen brand storytelling, refine competitive positioning, and leverage their expertise into distinctive and profitable new ventures.
In 1995, Derricks created the web's definitive destination for comic art and built one of the internet's most successful ad-supported content, e-commerce, and licensing businesses. She was recruited by Paramount Pictures to help launch the first digital platforms for Star Trek, Entertainment Tonight, and other coveted media properties. Derricks later served as a managing director at Deloitte Consulting where she served as a media / industry-facing representative of the Technology, Media & Telecommunications (TMT) and Strategy practices and created new businesses and customer strategies for Verizon, NBCU, Fox, Redbox, Blue Man Group, Mattel, Amazon, and Southwest Airlines.
"I'm so impressed by the Graziadio team and their thoughtful, principled, and forward-looking approach to developing tomorrow's business leaders. The opportunity to collaborate with such an energetic and committed group of professionals to support students and expand Graziadio's impact is a distinct pleasure," said Graziadio board member Alma Derricks.
Derricks holds a bachelor's degree in International Relations from Stanford University and is a past president of the Stanford National Black Alumni Association (SNBAA) board. She also holds an MBA from Georgetown University where she was both an NBC Fellow and Dean's Scholar.