The Waves of Change in the Workforce: Is Hybrid Work Better? An Inside Look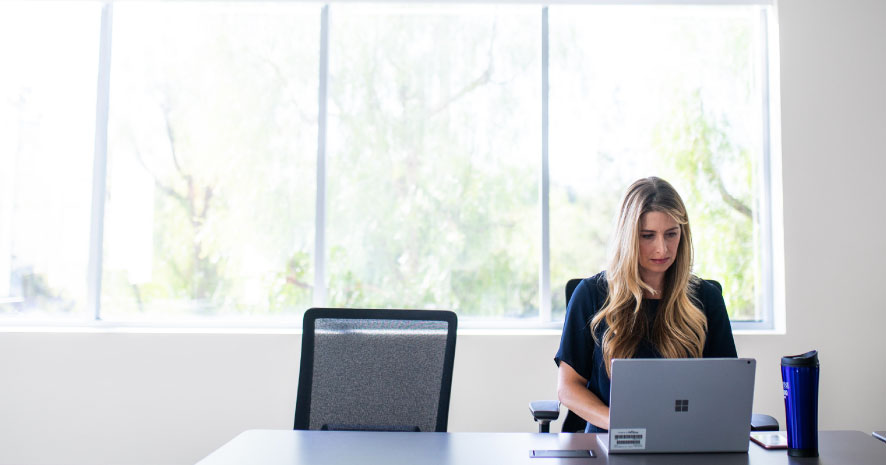 The world is changing—evolving rapidly in part to technological advances that some coin as the fourth industrial revolution. In addition to technology, the global pandemic, climate change, consumer trends, and workforce shortages have also fueled significant change in recent years.
However, one of the most notable adaptations has been the "on again off again" debate about the hybrid/remote working model and if it's better (or worse) for the workforce. While the benefits (or lack thereof) of hybrid work are mostly situational, there has been significant research that supports both the positives and negatives of a hybrid model.
Within this feature, we'll explore:
Benefits of the hybrid model
Potential challenges that need to be considered
Ways to excel in any working environment, regardless of modality
Why Hybrid Working Works (For Some)
At the beginning of the pandemic, working remotely was required for safety. As society has eased back into a "new normal," hybrid work has become the more prominent happy medium for both employers and employees—although, some chose to stay entirely remote. Regardless, working in a hybrid format does present beneficial opportunities. Let's explore further.
Flexibility
Most who work in a hybrid format can agree a prominent benefit of hybrid work is having flexibility. The hybrid model allows for employees to have an "a la carte" working schedule that allows them to pick and choose their in-office days and potentially switch them around when needed. The benefit of this flexibility is that it allows employees to choose what best works for them—which typically contributes to happier employees that do their jobs and do them well.
Work-Life Balance
In addition to flexibility, a hybrid working model can improve employees' work-life balance. When employees can split their time between the office and home, it gives them the resource of time—which is one of the most valuable resources individuals can enjoy.
Cost Savings
As the world currently experiences hyperinflation, saving money in any form is critical. The hybrid model allows for workers to save on gas, food, time, and anything else that may come along with commuting to the office, regardless of how far the commute is.
Efficiency
Working remotely has spurred various studies around employee productivity. The hybrid model can also promote a more productive workforce, enabling individuals to focus on getting more work done at home (hopefully without distractions). On the flip side, when employees spend time in the office, they can present the work they completed at home to their colleagues and focus on collaborating.
Hybrid work is incredible and promotes a better working environment for most. However, it's critical to note that not everyone is able to work remotely, so it's a privilege only some enjoy. So, if you can work remotely, be thankful—it's a blessing that not all can relate to.
Potential Challenges of Hybrid Work
Although working in a hybrid format works well for most, it's essential to note that there are potential challenges that need to be taken into consideration. This isn't intended to showcase negativity but instead shed a light on potential challenges so that individuals can look at hybrid work holistically.
Equity
For remote employees (hybrid included) it can be more challenging to climb the corporate ladder without a physical in-office presence. Extensive research regarding equity in hybrid work has been done at Pepperdine Graziadio, including work by Assistant Professor of Organization Theory and Management, Jennifer Franczak, PhD. According to Jennifer's article, Equity in the Hybrid Office, "For remote employees, advancement within an organization and professional development opportunities often remained inaccessible; the lack of physical presence in the workplace essentially allowed leaders to overlook these employees' contributions and aspirations."
If employers want to instill a more equitable workforce, they need to focus on providing the same opportunities to both in-person employees and hybrid workers. Franczak states, "…it is imperative that leaders deconstruct those same barriers to ensure equity and access for both in-person and remote employees."
Communication Challenges
Working in a hybrid format can potentially pose some communication challenges as it relates to the overall structure of teams and the company at large. With employees' schedules being inconsistent and somewhat sporadic, staying on the same page can be challenging. However, easy ways to avoid this is to double up on the communication style and make sure teams and employees are always receiving effective communication.
Lack of Accountability
Accountability with employees is on a case-by-case basis. However, it can be more difficult for managers to gauge an employee's workload and completed tasks in a hybrid format. The easiest way to avoid this is to use a project management system and keep a running task list of all your employees are working on in any given week.
Ways to Excel in Any Working Environment
Whether you're fully remote, working in a hybrid modality, or in-person full-time, there are various strategies you can deploy to excel. Listed below are simple tactics and food for thought when considering how to maximize your performance and excel in any workplace.
Be Punctual
This is common knowledge, when you're on time, you're late. Being early (or on time) is never a bad look. It shows your level of professionalism and your overall commitment to your career.
Stay Organized
Organization is key to any successful venture. It helps employees stay on the same page, work more collaboratively, and remain efficient.
Be Collaborative
Working collaboratively is another critical element for excelling at work. It's significantly easier to work with colleagues and departments when everyone focuses on collaboration.
Stay Positive
Positivity is keen for improving morale and instilling a workplace that promotes employee satisfaction and overall employee retention.
Wrapping up, the hybrid working model for many is here to stay. And as the workforce progresses, hybrid work may eventually become the norm for all. Regardless of what modality works for you, remember that the world is constantly evolving and adapting—the best way to succeed is to approach new opportunities with an open mind and see where the road leads.