Alumni Spotlight: Meet Monzerrat Brunkhorst, MBA '17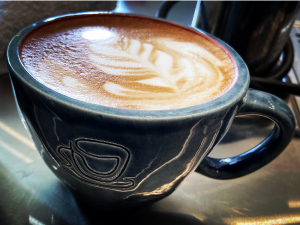 The love of coffee is a shared piece of culture that spans globally across societies. Monzerrat Brunkhorst (MBA '17) shares her passion and love for coffee with the Santa Monica community by welcoming coffee lovers to her business, Café de Mundo. Their mission, "Sharing the World's Love for Coffee" is an evident component of the business, already garnering regulars since their opening five weeks prior.
Monzerrat accredits part of her business success to teachings from Graziadio, where she earned her MBA in the Part-Time program. One class, in particular, Entrepreneurship with Dr. Cox, helped her better understand the details of owning a business, eventually leading to the birth of Café de Mundo.
Pour a cup of joe and read about Monzerrat's journey from Pepperdine to coffee shop owner in our recent interview below. Craving a latté? Check out Café de Mundo's website and visit Monzerrat's shop if you're nearby!
Share your business success with us:
I recently opened my dream Coffee Shop in Santa Monica, Cafe de Mundo. We have been open for about 5 weeks, and it is getting some traction. We already have regulars that have their favorite drinks, so that is really exciting to see.
Do you have a favorite class or Graziadio memory that has influenced your career?
Definitely entrepreneurship with Dr. Cox. His class was always fun, and very practical. He helped me better understand the basic foundations of building and creating your own business as well as how to plan for it and minimize the risk of failure.
What professional advice have you received that has helped shape your career?
Someone I really trust told me once that details are very important, and that is what sets you apart from your competitor, so I try to keep that in mind in everything I do, particularly in Cafe de Mundo.
How have you been involved with the Graziadio School and how have you benefited from that experience?
I keep in contact with many of my classmates, who have become my good friends. I am looking forward to being more involved in the alumni network events at some point, but right now I have no time at all. This new business is very time-consuming.
Share something a novel personal point:
I am a foodie. I am always looking for fun, new restaurants to try out. My new favorite is a Thai restaurant called Night and Market. It's very spicy but so good.