SEER Symposium
Values-based Innovation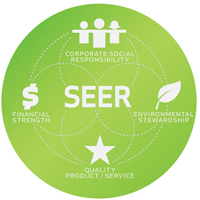 Coming Soon in February 2016
The Fifth Annual SEER Symposium continues its exciting exploration into next generation business strategy, gathering the experiences of a broad spectrum of world-changing innovators, executives, thought-leaders and entrepreneurs to engage, challenge and inspire its audience of MBA students and members of the business community. These luminaries ride the crest of the rising tide of social and environmental awareness that it is irrevocably altering the landscape for business in the 21st Century. Each in their own way embody the SEER philosophy of long-term thinking, formulating strategy through the Macro Values of Quality Product/Service, Social Responsibility, Environmental Stewardship and Financial Strength.
This year's theme of values-based innovation, emphasizes leaders who grab the opportunity to create catalytic change in the status quo of both industry and community.
There has never been a better time for forward-thinking individuals to take control of their destiny by starting a business. Through the power of technology, and global connectivity, entrepreneurs have unprecedented resources at their disposal to target challenges both locally and globally and develop unique, innovative, and disruptive solutions to those challenges. Just as Yvon Chouinard of Patagonia, Blake Mycoskie of TOMs, and John Mackey of Whole Foods before them, the most successful entrepreneurs today create profitable companies that help make the world a better place based on the founders' beliefs and values. Moreover, in striving to meet and overcome these challenges, these Positive Entrepreneurs create the conditions to live lives of meaning as well as improving the lives of others.
As Michael Porter points out, business is the only institution that has the capacity to scale infinitely to address the social and environmental challenges that confront us in the 21st Century. Positive Entrepreneurship's focus on values and positive impact provides an exciting foundation for a virtuous cycle through all four quadrants of the SEER cycle: founders' values translate into a culture of high engagement (flow). This Shared Purpose in turn deepens Customer Value Proposition and Brand Loyalty, all resulting in ever-growing profitability, which can be used to scale the business while delivering Shared Value to stakeholders.


About Pepperdine's SEER Certificate Program
Many sustainable business programs have focused attention on "the triple bottom line" – People, Planet, Profits. The Certificate in Socially, Environmentally and Ethically Responsible (SEER) Business Strategy, offered to Pepperdine's Full-time MBA and Fully Employed MBA students, goes a step beyond and adds a fourth factor to the equation: Product. This certificate program focuses on the complexities of sustainability, corporate social responsibility, and ethics, and how these tie into producing a superior product that generates financial growth.