Speakers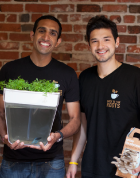 Nikhil Arora and Alejandro Velez
Founders
Back to the Roots
Nikhil Arora and Alejandro Velez co-founded Back to the Roots in 2009 as seniors at UC Berkeley and gave up a potential careers in finance and consulting to become urban mushroom farmers. They have since created two award-winning products, the Mushroom Kit and AquaFarm, that are sold in over 2500 retailers nationwide, including Whole Foods, Home Depot, Costco, Nordstrom, Target, Safeway, and Kroger. Nikhil and Alejandro's mission with Back to the Roots is to create well-designed, fun, and sustainable products that inspire millennials and their kids to reconnect with food and ask the question, "where does my food come from?"
Since co-founding Back to the Roots, both have been named two of BusinessWeek's Top 25 Entrepreneurs under 25, Inc.'s 30 Under 30, Forbes' 30 Under 30, and CNN's 10 Next Entrepreneur's to Watch. Back to the Roots was named one of Martha Stewart's Top 10 American Made companies, named to the INC 500 list in 2014, and has been recognized for its innovation by President Obama.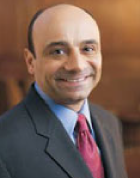 John Figueroa
CEO
Genoa Healthcare
John Figueroa joined Genoa, a QoL Healthcare Company in July 2014 as Chief Executive Officer, completing the successful merger of Genoa Healthcare and QoL meds. Genoa is the nation's market leading behavioral health specialty pharmacy company serving more than 300,000 individuals with severe mental health illnesses, spanning 34 states across a network of more than 225 pharmacies. Previously, Mr. Figueroa served the dual roles of CEO of Apria Healthcare Group Inc. as well as that of Coram LLC. In January 2012 the Coram asset was sold to CVS Caremark for $2.2 Billion. Mr. Figueroa remains the Chairman of Apria Healthcare Group Inc.'s Board of Directors. Prior to his appointment to these roles, Mr. Figueroa served as CEO and Board Member of Cincinnati, Ohio-based Omnicare, Inc., a Fortune 500 healthcare services company that provides pharmaceuticals and related services to long-term care facilities and specialized drugs for complex disease states. Before that, Mr. Figueroa served as President of McKesson Corporation's U.S. Pharmaceutical Group from 2006 to 2010, after holding progressively more responsible operations and sales positions in the company's Supply Solutions, Pharmaceutical and Health Systems groups from 1997 through early 2006.
Mr. Figueroa holds Bachelor's degrees in both English Literature and Political Science from the University of California at Los Angeles, where he was a distinguished military graduate. He also holds a Master's Degree in Business Administration from Pepperdine University, where he has been honored as a Distinguished Alumnus. From 1985 through 1990, he served as a Commissioned Officer in the United States Army. Mr. Figueroa was awarded the Supply Chain Executive of the Decade award in 2010 from the Global Supply Chain Leaders Group (GSCLG). He serves on the Executive Committee for the Board of Visitors at Pepperdine University Graziadio School of Business and Management and is a guest lecturer at the Wharton School of the University of Pennsylvania.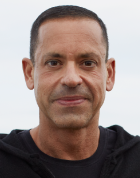 Sal Giambanco
Partner
Omidyar Network
Sal leads the human capital and operations functions of Omidyar Network. In this role, he works to develop and scale the talent at Omidyar Network and its portfolio organizations. Sal brings a wealth of executive experience in human resources management to his role as a partner at Omidyar Network. From 2000 to 2009, Sal served as the vice president of human resources and administration for PayPal and eBay Inc. Prior to joining PayPal, Sal worked for KPMG as the national recruiting manager for the information, communications, high-tech, and entertainment consulting practices, while also leading KPMG's collegiate and MBA recruiting programs. Previously, Sal directed human resources at Tech One, Inc. and held positions at Ernst & Young and ESS Technology, Inc. Sal began his career working in the public sector in a variety of roles, primarily in education and hospital ministries.
Sal holds an MA in philosophy from Fordham University, a Masters of Divinity from the Graduate Theological Union in Berkeley, California, and an AB in economics and political science from Columbia University. Sal is also currently a lecturer for the University of San Francisco School of Management Silicon Valley Immersion Program.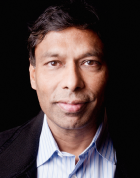 Naveen Jain
Philanthropist, Entrepreneur, and Technology Pioneer
Naveen Jain is an entrepreneur and philanthropist driven to solve the world's biggest challenges through innovation. He is a founder of Moon Express, World Innovation Institute, iNome, TalentWise, Intelius, and Infospace. He is a regular contributor to the Forbes, WSJ, INC and Huffington Post. Moon Express is developing a robotic lunar lander to explore and mine the moon for planetary resources that will be the key to securing humankind's future. World Innovation Institute fosters innovation and entrepreneurship to create scalable and sustainable solutions for many of the grand challenges such as reinventing education to be engaging & effective, affordable and accessible healthcare. iNome is the first company to create the Information Genome of humanity. Inome allows you to discover the genomics of how we all fit together and to bring each one of us one step closer to our dreams.
Naveen Jain a trustee of the board and vision circle member at the X PRIZE Foundation where he is focused on finding entrepreneurial solutions to address the global challenges in health, education, poverty, agriculture, and clean water. Naveen Jain is on the board of Singularity University, an interdisciplinary university with the mission to educate and inspire leaders to address humanity's grand challenges through innovative technologies. Naveen is an advisor to the UK Longitude Prize and a member of the Explorer club.
Naveen Jain has been awarded many honors for my entrepreneurial successes and leadership skills including "Ernst & Young Entrepreneur of the Year", "Albert Einstein Technology Medal" for pioneers in technology, "Most admired Serial Entrepreneur" by Silicon India and "Top 20 Entrepreneurs" and "Lifetime Achievement Award" for the leadership in the technology industry and support of other entrepreneurs by Red Herring..
Michelle Kydd Lee
Director
Foundation for Creative Arts Agency (CAA)
Michelle Kydd Lee is the director of the Foundation for Creative Artists Agency (CAA), a talent and literary agency based in Los Angeles, with offices in New York, Nashville, St. Louis, London, and Beijing. Since 1995, the CAA Foundation has used the natural resources of the entertainment and sports community to create positive social change. In her role, Lee serves as a consultant to clients, executives and corporations on their philanthropic and pro-social initiatives. Additionally, Lee holds the title of director of culture at CAA, supervising several other divisions of the agency. Lee has served on numerous charitable organization boards and currently sits on the board for Points of Light, Communities In Schools of Los Angeles, and the advisory boards for the Ad Council, FEED, and IDEO.org. She is also a member of the 2009 class of Henry Crown Fellows at the Aspen Institute.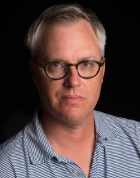 Gregg Latterman
Founder and CEO
Aware Records
Gregg Latterman is the Founder and CEO of Aware Records and A-Squared Management. In 1993, Aware released the first of many Aware Compilations to help expose unsigned, regional bands to a national audience. The compilations featured Hootie & the Blowfish, Matchbox 20, Jack Johnson, John Mayer and many more bands that have gone on to be household names. After releasing the first compilation, Latterman left his job as a CPA in Boston and immediately started a buzz in the music industry. He continued to build the company while receiving his MBA from Kellogg (Northwestern) Business School in 1996. After being pursued by most of the major labels, Aware Records signed an artist development and distribution deal with Columbia Records in 1996 which continued as a joint venture until 2010. The first three bands signed to Aware Records were Train, Five for Fighting and John Mayer, who have combined to sell over 20 million records worldwide. In the summer of 2010 Aware did a new joint venture with Universal/Republic and is the home to Mat Kearney and Guster. In addition to the label, Latterman formed A-Squared Management, an artist management company, in 1998. A-Squared currently manages musicians such as Five for Fighting, Mat Kearney, Brandi Carlile, Jack's Mannequin, Michelle Branch, Motion City Soundtrack, and many others.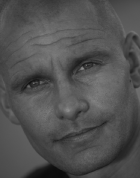 Stig Severinsen
4-time World Champion Freediver
Author of Breatheology: The Art of Conscious Breathing
Combining yoga and his knowledge of physiology and peak performance in sports, Stig Severinsen has created Breatheology® in order to raise awareness on the true power of breathing and breath holding. On April 1st, 2010, he became the first person in the world to hold his breath over 20 minutes, when he set an official Guinness World Record of 20 minutes and 10 seconds in a shark tank in Denmark. In May 2012, he improved the record to 22 minutes during a live attempt in London on "Superhuman Showdown" for Discovery Channel. He won the show and was awarded the title "The Ultimate Superhuman."
Always pushing the limits of human physiology and psychology his latest two Guinness World Records were set during the filming of the documentary series "The Man Who Doesn't Breathe" (for Discovery Channel) when he swam 500 feet (in a wetsuit) and 250 feet (in speedos) under the ice in Greenland – all on a single breath of air. Being a scientist himself, he always collaborates with leading scientists from around the world to unlock new secrets on the human body and mind, in order the use the results on a broader scale in prevention, rehabilitation and cure in various health scenarios (stress, illness, accidents etc.) as well as to optimize sports and business performance.
Since many years he has been working as a coach and consultant to Olympian gold-winning athletes, military personnel, CEO's of large corporations and has a laser-sharp focus on making his teaching and techniques available to the world via his online Breatheology ® platform (breatheology.com). Earlier this year Stig Severinsen was featured on 60 MINUTES and has a 1-hour special feature program on National Geographic (US) slated for release October 26th, 2014.
Hosts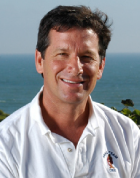 Michael Crooke, PhD
Lead Faculty, SEER Certificate Program
Assistant Professor of Strategy
Former CEO, Patagonia, Inc.
Michael Crooke has a unique track record for business success and social responsibility. Starting in 1999, Dr. Crooke spent six years as president and CEO of Patagonia and its parent company, Lost Arrow Corporation. During his tenure as Patagonia's CEO, Dr. Crooke led the company to tremendous growth while nurturing its core values of quality and environmentalism. Patagonia and Dr. Crooke also won numerous awards for social responsibility, environmental activism, and sustainable business practices. This led to rapid growth, and enabled Patagonia to become one of Fortune's 15 "Best Companies to Work For." Dr. Crooke now leads the Graziadio School's Socially, Environmentally, Ethically Responsible (SEER) Business Strategy certificate program and teaches the capstone course on responsible business practice. In addition, Dr. Crooke serves as director of Earth Day Network and is a consultant to various high-growth businesses on strategic issues.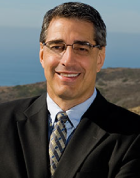 Larry Cox, PhD
Lead Faculty, Entrepreneurship Programs
Associate Professor of Entrepreneurship
Larry Cox is an associate professor of entrepreneurship at Pepperdine University's Graziadio School of Business and Management, and lead faculty for the Graziadio School's entrepreneurship programs. Dr. Cox directed the Entrepreneurship Centers at Ball State University and the University of Wisconsin-Madison. Prior to this, he was the director of research at the Ewing Marion Kauffman Foundation in Kansas City, MO. He experienced entrepreneurship firsthand when he started his own company in 1985 selling industrial products to large manufacturers in the Rocky Mountain area. He returned to the University of Nebraska in 1990 to receive a master's degree in management information systems and a doctorate in strategic management. While earning his advanced degrees, Dr. Cox served as the director of the Nebraska Business Development Center and consulted hundreds of would-be entrepreneurs. His personal research interests include the impact of entrepreneurship education, and the creative processes of entrepreneurs. An award-winning educator, Dr. Cox especially enjoys helping young entrepreneurs and is an inspiring speaker and seminar leader.