Meet the Faculty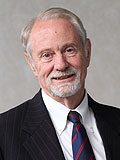 Rick Hesse, DSc
Professor of Decision Sciences
Phone: (805) 379-5813
E-mail: rick.hesse@pepperdine.edu

DSc, Washington University
MS, Washington University
BS, Washington University
Rick Hesse is currently Professor and Chair of Decision Sciences and Marketing at Pepperdine University's Graziadio Graduate School of Business and Management. He has taught in engineering schools at Mercer, West Point, and Georgia Tech, and in business schools at Wake Forest, San Diego, and Southern Cal. Rick has been teaching management science using spreadsheets since 1982 in both engineering and business schools at both the graduate and undergraduate level. Spreadsheet analysis is a very visual technique to help improve business operations and profitability.
From 1982-2007 he wrote a quarterly column in Decision Line, "In the Classroom," that featured teaching tips, mainly about spreadsheet use for solving quantitative models used in business and industry. Rick has written articles in Interfaces, Operations Research, Decision Sciences and several textbooks.
Rick has won numerous teaching awards, including the national Decision Sciences Innovative Instructional Award and the Outstanding Civilian Service Medal from the Department of the Army, and Teacher of the Year at the San Diego State School of Business.
Dr. Hesse has been involved in consulting on management science problems with companies including Semtech, YouBet.com, ITT, Pratt & Whitney, Brown & Williamson, Piedmont Airlines, GEICO, UPS, and Bluebird. He has held seminars and speaking engagements on management science at Coca Cola, AMOCO, Hughes Systems, US Steel, RJ Reynolds and other companies. Rick has taught seminars in Mexico, Brazil, Canada and Ireland (April 2006).
Selected Links:
A - D
E - I
J - L
M - P
Q - S
T - Z