Meet the Faculty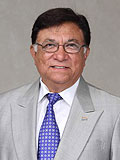 Ray M. Valadez, EdD
Practitioner Faculty of Economics
Phone: (949) 388-2828
E-mail: ray.valadez@pepperdine.edu

EdD, Pepperdine University
MBA, Pepperdine University
Dr. Valadez was born and raised in San Antonio, Texas. He has lived in California since 1959. He attended Los Angeles High School, the U.S. Military Academy at West Point, UCLA, and Pepperdine University. He received his graduate degrees including an MBA and a doctorate from Pepperdine University. He lives with his wife, Jean, of 44 years in Orange County. He has three children and is the proud grandfather of ten children.
His combined experience as an entrepreneur, business professional and consultant, community leader, and academician assures that his business expertise will contribute greatly to any organization with which he is involved. He has both academic and practical experience in International Business besides several publications in international academic journals. He has written several award winning papers. He currently teaches at both the undergraduate and graduate level at Pepperdine University's Graziadio School of Business and has taught at the University of California at Irvine Extension. In addition to teaching, he consults with international firms. He was a founding member of an Advisory Committee for the International Business Certificate program at UCI Extension and developed the curriculum for the certificate program in International Business. He currently sits on several committees including curriculum program committees at Pepperdine University. He gives classes, lectures and seminars in Management, International Business, Money and Finance, Macro and Microeconomics, Import and Export with expertise in doing business with Mexico.
He was the Chief Operating Officer for an Internet company that went public and pioneered Intra-net systems for the medical profession on the Internet. He was the President and Chief Executive Officer of a company specializing in export/import of medical supplies and materials to Latin America. He has held various positions in the financial services industry including senior executive positions. He presently consults with international firms doing business in Mexico.
He has numerous credentials in the financial field including being a past member of the National Association of Security Dealers (Registered Principal). He has held various Board Member positions and was a founder and officer of a Law School in Orange, CA. He has been an active community leader by serving as a founder and officer of the South County Junior All-American Football League (1986-89). He was on the Board of the Notre Dame Club of Orange County for several years (1997-2003). Dr. Valadez is listed in Who's Who among Hispanic Americans. He serves in various committees at Pepperdine University, including the elected office of the Faculty Council at the Graziadio School of Business and Management.
Selected Links:
A - D
E - I
J - L
M - P
Q - S
T - Z