Meet the Faculty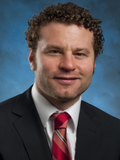 Darren Good, PhD
Assistant Professor of Applied Behavioral Science
E-mail: darren.good@pepperdine.edu

PhD, Case Western Reserve University
MA, Pepperdine University
BA, University of Wisconsin
With a passion for leadership development, executive coaching, and mindfulness, Darren Good, PhD is an award-winning teacher and researcher of applied behavioral sciences. He is an assistant professor in both the MBA and MS in Organization Development programs at the Pepperdine University Graziadio School of Business and Management and conducts research on various aspects of his field.

Dr. Good seeks to inspire and enlighten his students beginning with their personal development to help them affect their influence when they embark on their careers. Courses taught by Dr. Good include leadership development, change management, organization behavior, and group dynamics. In addition to preparing students in the classroom, Dr. Good teaches working professionals through his conference presentations and consulting practice.

An active leadership scholar, Dr. Good is widely published in business management and psychological science journals, including the Journal of Management, The Journal of Applied Behavioral Science, The Journal of Psychology, Journal of Leadership and Organizational Studies, Journal of Management and Organization, Ethics and Behavior, and Journal of Change Management. He also serves as associate editor, organizational psychology for the journal, Frontiers in Psychology.

In 2015, Dr. Good received the Howard A. White Award for Teaching Excellence. The previous year, he was named a 2014 Western Academy of Management Ascendant Scholar, as well as a Rothschild Research Fellow for his ongoing scholarly contributions to mindfulness at work. Dr. Good was awarded a Julian Virtue Scholarship in 2013.

Dr. Good holds a doctorate in organizational behavior from Case Western Reserve University, an MA in psychology from Pepperdine University, and a BA in sociology from the University of Wisconsin - Madison. He also attended the Gestalt Clinical Training Program at the Gestalt Institute in Cleveland, Ohio.

Prior to pursuing a career in academia, Dr. Good was a manager with Unicast Communications, a division of Bcom3, and held several positions as an account executive for advertising agencies Saatchi & Saatchi and True North Communications.
Selected Links:
A - D
E - I
J - L
M - P
Q - S
T - Z