Meet the Faculty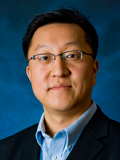 Abraham Park, PhD
Director of Fred Sands Institute of Real Estate; Associate Professor of Finance; Department Chair of Accounting and Finance
Phone: (310) 506-8539
E-mail: abraham.park@pepperdine.edu

PhD, University of Cambridge, United Kingdom
JD, University of California, Berkeley
MPP, Harvard University
BA, University of California, Berkeley
Abraham U. Park is an Assistant Professor of finance at Pepperdine University. Courses he has taught include Real Estate Investments & Finance and Corporate Finance at the MBA level. His current research is related to REITs and Corporate Real Estate.
Dr. Park has over 12 years of experience in law, a Silicon Valley technology start up venture, management consulting, hedge funds, and global real estate finance. He has worked and lived in the U.S., Asia, and Europe.
Dr. Park holds a Ph.D. from University of Cambridge, M. Phil. from University of Cambridge, J.D. from U.C. Berkeley, M. P. P. from Harvard University, and B.A. from U. C. Berkeley.
A - D
E - I
J - L
M - P
Q - S
T - Z