Founder and Benefactor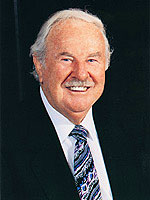 George L. Graziadio, Jr.
When you enroll at the Graziadio School, you are joining an institution with a great entrepreneurial heritage informed by the spirit of two highly successful business leaders - founder George Pepperdine and benefactor George L. Graziadio, Jr.
The Pepperdine business school was founded in 1969 by faculty members who were committed to improving the practice of business. They, too, were pioneers who were among the first to address the education needs of working professionals, designing programs that emphasized the application of theory and experiential learning in small class settings to enhance the significant work experience of adult learners. Pepperdine developed full-service campuses in West Los Angeles, Encino, and Irvine to make Pepperdine's business programs accessible for working professionals.
About George Graziadio
The Pepperdine leadership in educating business people and bringing real-world challenges into the classroom impressed a successful entrepreneur: George L. Graziadio, Jr. Mr. Graziadio, along with his partner George Eltinge, had built an extensive commercial real estate business and had founded Imperial Bank, which commanded assets to rank it in the top 100 financial institutions in the nation. Mr. Graziadio served as chairman of Imperial Bank and chairman, president, and CEO of Imperial Bancorp. Imperial Bank was acquired by Comerica Bank in 2001, and Mr. Graziadio served as Chairman, Comerica Bank-California until his death in June 2002. This remarkable entrepreneur endowed the Pepperdine business school in 1996. To acknowledge his generosity, the school was named in his honor.
Watch video: George Graziadio Accepts the Horatio Alger Award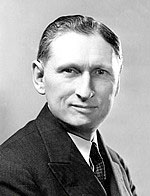 About George Pepperdine
About George Pepperdine
George Pepperdine was a pioneer in the automotive industry who started Western Auto Supply in 1909. He believed that "happiness in this world is not gained by accumulating and hoarding money or material things or by self-indulgence, but rather in accumulating and giving to others, helping to raise the standards of human life and spiritual living." Mr. Pepperdine practiced what he preached, pouring his fortune back into the community.
He was motivated by a desire to help men and women prepare themselves for a life of usefulness in a competitive world and advocated a business education coupled with the development of Christian values. Established in 1937 in downtown Los Angeles, Pepperdine College was the fulfillment of George Pepperdine's dream. In 1971, Pepperdine achieved university status and in 1972, Pepperdine opened a new campus in Malibu overlooking the Pacific Ocean. Today, Pepperdine is an independent, private university enrolling approximately 8,000 students in five colleges and schools - each combining academic excellence with a strong emphasis on values.
As a Pepperdine student, you will benefit from this rich entrepreneurial heritage and the tradition of values-centered leadership exemplified by the University's founder and the business school's benefactor.