Message from Dean David M. Smith
The Right Time to Invest in Your Future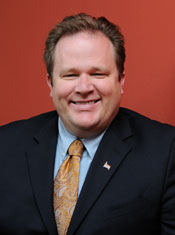 Dean David M. Smith

I'm often asked, "When is it a good time to go back to school?" While an uncertain economy brings with it many challenges, it also affords us a number of opportunities. I would encourage you to consider your advanced degree as an opportunity to secure an investment that pays significant returns both in your professional and personal development.
In choosing Pepperdine University, we believe you've made the smart business decision. Our degree programs are practical and relevant, so that you may see immediate results in yourself and your organization. Through faculty well versed in business issues as well as colleagues who share similar work experience, you will leave the program better prepared to anticipate and lead change at all levels.
You will also have the opportunity to build a lifelong network with the colleagues you meet in class. Pepperdine students come from a variety of professional, cultural, and educational backgrounds. They are employed in more than 300 companies representing virtually every industry in Southern California-companies such as Bank of America, Boeing, Kaiser Permanente, Mattel, Neutrogena, Toyota, and Warner Bros. to name a few. All students have been selected based on their accomplishments and their ability to contribute to the learning of their fellow classmates.
As a Pepperdine student, you will also have the opportunity to strengthen your personal development as a values-centered leader. With a deeper understanding of your own values, we believe you'll be better positioned to advance both people and responsible business practices throughout your career.
A Pepperdine degree can lead you to unlimited opportunities. Financially, your degree can increase your long-term earning potential exponentially while providing added job security in the face of budget cuts. A Pepperdine degree may also open the door to a new career in a new industry or a new role as an entrepreneur.
Wherever it may lead you, your Pepperdine degree will be recognized as a prestigious milestone in your career and a reflection of your commitment to excellence.
David M. Smith, PhD
Dean and Associate Professor of Economics
Graziadio School of Business and Management
Pepperdine University