Executive MBA (EMBA)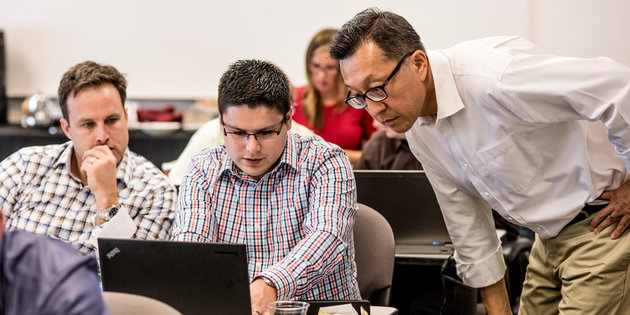 Program Overview
Campus
West L.A., Irvine, Malibu, Silicon Valley, Dallas*
Duration
19 months
Schedule
Once every three weeks, Friday afternoons/evenings, Saturday mornings/afternoons
Work Experience
Minimum seven years experience, two years at management level

*Pending WSUSC approval.
Important Dates
Admission Deadlines
SoCal, Spring 2016
Round 1 Early Admission:
October 23, 2015
Round 2 Regular Admission:
November 30, 2015
Round 3 Waitlist:
December 18, 2015

NorCal, Summer 2016
Round 1 Early Admission:
December 28, 2015
Round 2 Regular Admission:
February 5, 2016
Round 3 Waitlist:
March 11, 2016

Dallas Fort Worth, Spring 2016
November 15, 2015
Classes Begin
January 6 - 9, 2016 (Dallas)
January 13 - 16, 2016 (SoCal)
March 30 – April 2, 2016 (NorCal
Program Highlights

Get executive mentoring
Unique to Pepperdine's Executive MBA program, each cohort is assigned a class advisor. These entrepreneurs and business executives are graduates of our EMBA program and bring a wealth of valuable experience and connections to our students.
Learn from faculty experience
Pepperdine's business faculty includes respected scholars, seasoned executives, consultants, and entrepreneurs. Our low student-to-faculty ratio ensures you have ample opportunity to ask questions, share ideas, and build relationships with leaders and peer executive cohorts.
Learn from your own experience
In the first trimester, students choose a company (often their own) as a "live case" study. Making your business part of the curriculum allows you to bring what you are learning directly into your firm to solve real challenges in real-time.
Develop a global perspective
An international research excursion gives keen insight into developing markets and a deeper understanding of global business. Students visit two countries and meet face-to-face with company executives to experience first-hand how global business is done.


Hear Directly From Our Students