Meet the Faculty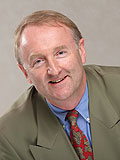 John G. Mooney, PhD
Associate Professor of Information Systems Technology Management
Executive Director, Institute for Entertainment, Media, and Culture
Phone: (949) 223-2538
E-mail: john.mooney@pepperdine.edu

PhD, University of California, Irvine
MMS, University College Dublin, Ireland
BS, University College Dublin, Ireland
Dr. John Mooney, executive director of the Pepperdine University Institute for Entertainment, Media, and Culture, also serves as an associate professor of information systems and technology management at the Pepperdine University Graziadio School of Business and Management as well as a Research Affiliate at the MIT Sloan Center for Information Systems Research. Dr. Mooney's expertise is in digital innovation and business analytics. He holds a PhD in Information Systems and Business Strategy from UC Irvine, and a Master of Management Science with a BS in Computer Science both from University College Dublin, Ireland.
From 2014-2015, Dr. Mooney served as interim associate dean for academic affairs and online programs. He served as department chair for strategy, information systems and decision sciences from 2012-2014, and as associate dean ofacademic programs and executive education from 2005-2010 when his responsibilities included leadership and oversight of the development and delivery of the Graziadio School portfolio of degree programs for business professionals and executives.
Dr. Mooney is a member of the editorial boards of MIS Quarterly Executive, the Journal of Strategic Information Systems, the eService Journal and the Journal of Global Responsibility. He was a co-founder of RealExPayments and served as a non-executive director until its acquisition in 2015. John was also the founding co-chair of the AACSB Associate Deans Affinity Group, and now leads the design and delivery of AACSB's Seminar for New Associate Deans. He was Vice President for Chapters and Affiliated Organizations at the Association for Information Systems (AIS) from 2004-2007, and will serve as Conference Co-Chair for its 2016 International Conference on Information Systems, which will be held in Dublin, Ireland.
John is married to Dr. Angela Tripoli, a former professor of organization behavior who now coaches executives and business owners through life and career transitions. They are blessed with one daughter, whose passion is ballet. John volunteers for Maple Youth Ballet building props and managing the backstage crew. He also serves at the St. Thomas More catholic parish, and volunteers with the Irvine Ranch Natural Landmarks as a Lead Trail Boss and Lead Land Steward. John has been honored with a number of teaching, research and service awards.
Selected Links:
A - D
E - I
J - L
M - P
Q - S
T - Z