BSM Flex Option
Bachelor of Science in Management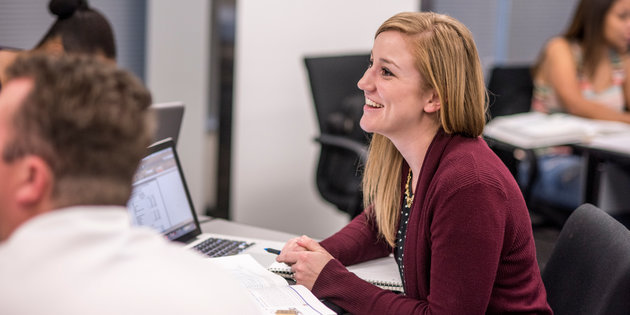 Among the key features of the BSM program at Pepperdine is our flex course delivery format. We combine the flexibility of online learning with the face-to-face interaction of a traditional on-campus experience. This option is ideal for working professionals with demanding schedules, travel obligations, and other life commitments that make it difficult to attend classes on a regular weekly schedule.


Flex BSM Highlights
We combine face-to-face class meetings (53%) and online learning activities (47%).
We provide the same faculty, BSM curriculum, admission requirements, small class size, and academic rigor as the traditional BSM program.
"Face-to-face" meetings are typically scheduled on Saturdays, with locations alternating between our Irvine and West Los Angeles Graduate Campuses.
Flex BSM students have access to all Pepperdine Graziadio School resources, including career services, networking events, financial aid, and library services.
On-Campus Schedule
Pepperdine Bachelor of Science in Management course offerings vary by location. For each unit of coursework taken, Flex classes meet for one Saturday per term. For example, a four-unit class will meet on four Saturdays over the course of a trimester. The program begins with a weekend-long Personal and Leadership Development workshop, for which physical attendance is required. Classes meet from 8 a.m. to 5 p.m. at either the Irvine or West Los Angeles Graduate Campus.
View the Flex BSM course schedule »
Online Learning
Pepperdine has always focused on creating a highly collaborative environment with personal attention from faculty, and our online delivery model is no exception. Our esteemed faculty work with instructional designers to ensure a virtual experience that is engaging, interactive, and high-touch. BSM students and faculty use the Graziadio Learning Environment and Network (GLEAN), a series of interactive online tools such as Google Apps, VoiceThread, and Yammer, our internal social network similar to Facebook, for online discussions. Students can participate from anywhere using a modern computer with internet access.