Education to Business (E2B)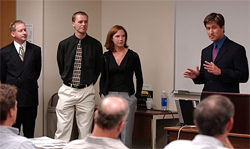 Listed in U.S. News & World Report's "10 College Courses That Will Pay Off at Work," the Education-to-Business (E2B) program gives students the opportunity to act as consultants for companies who have come to Pepperdine for assistance with real-time business problems. E2B goes beyond theory and provides practical, results-oriented education that gives students real experience in critical thinking and the application of MBA-level business concepts.
Working Directly with Company Executives
After an initial introduction to company executives who present their current business issue in class, students are divided into "consulting teams" to research, analyze and address the assigned company's specific challenge. Students are in contact with company executives over the 14 weeks of development, allowing them to refine, troubleshoot and further hone communication skills. The class culminates with both a written proposal and an oral presentation to the client organization, during which constructive feedback is given to each team by executives from the company.
Student Testimonial
"This class case project has been as real as it gets and adds so much to my MBA program. The fact that we are preparing an important document and presentation for REAL clients is refreshing and quite frankly is where the proverbial rubber meets the road. It fuses our academic learning with practice."
- Dinyar Mehta, MBA Student
Real-time Results for Companies
Numerous E2B client companies have implemented student recommendations and experienced overwhelmingly positive results, elevating students' sense of accomplishment and understanding of execution. Demand to participate in the program has skyrocketed since its inception in 2003. For every 10 companies that apply, only one is selected and assigned to a class. E2B has become an integral part of the Graziadio School learning experience and takes on 45 consulting projects annually in four different disciplines.
E2B students have provided consulting services for Fortune 500 companies such as Starbucks and Warner Bros. as well as local small businesses like Mesa Safe.
Company Testimonial: Raytheon
"Raytheon's participation in the Pepperdine E2B program continues to be a totally positive and rewarding experience. At the outset of our ITSS class project, we worked jointly to focus our objectives and expectations and we made more progress in one session that we had previously made in months of struggling on our own. Working with the students, they saw possibilities way beyond our dreams. Finally, the creativity, enterprise and enthusiasm of the teams returned so much more than our limited investment. We are actively pursuing some of the teams' concepts and look forward to participation in followup projects with Pepperdine."
- Gill Tansley, Program Manager, Raytheon