Bachelor of Science in Management
Tools for Transfer Students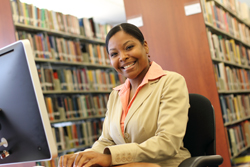 Pepperdine welcomes community college transfer students interested in our Bachelor of Science in Management (BSM) program. The BSM is an evening and weekend bachelor's completion program designed for working professionals. Students may transfer in the spring, summer or fall trimesters.
The information below outlines the academic requirements needed to transfer from your current school to Pepperdine's BSM program.
What is a TAG?
A transfer admission guarantee, or TAG, is an agreement between Pepperdine University and the applicant that guarantees admission to the BSM program, provided that the applicant has satisfactorily completed all requirements listed on the agreement and any additional documents needed to complete the BSM application.
View TAG requirements by community college »
What is an Articulation Agreement?
An articulation agreement is an agreement between Pepperdine University and a community college that defines the coursework taken at the community college and how the courses can be used to satisfy a subject requirement needed to transfer to Pepperdine's BSM program.
View articulation agreements by community college »
TAG Program Summary
Students who meet the requirements below will sign the TAG with their community college counselor or with a pre-admission advisor at Pepperdine University.
| Requirements | At Time of Signing | At Time of Transfer |
| --- | --- | --- |
| Cumulative GPA | 2.5 or above | 2.8 or above (2.0 or above in last semester of coursework at community college) |
| Full-time Work Experience or Equivalent | 1 year or more | 3 years or more |
| General Education* Units Complete | 30 units or more | 45 units |
| Elective Units Complete | 0-15 units | 15 units |
*Refer to your community college's TAG below for general education courses required.
Students who do not meet the requirements above are encouraged to meet with a pre-admission advisor at Pepperdine to pursue the regular admission process. Please contact a pre-admission advisor at your preferred Pepperdine campus below for questions.
TAGs and Articulation Agreements by College
For your convenience, we have provided below a list of the transfer agreement guarantee (TAG) requirements and the articulation agreements for community college transfer students. Please also review our application process, admission requirements, and lower division course requirements for more information.
Please note: The agreements above are for Pepperdine's Graziadio School of Business and Management (part-time, evening program), NOT for Pepperdine's undergraduate Seaver College (full-time program).