Part-Time Hybrid MBA Option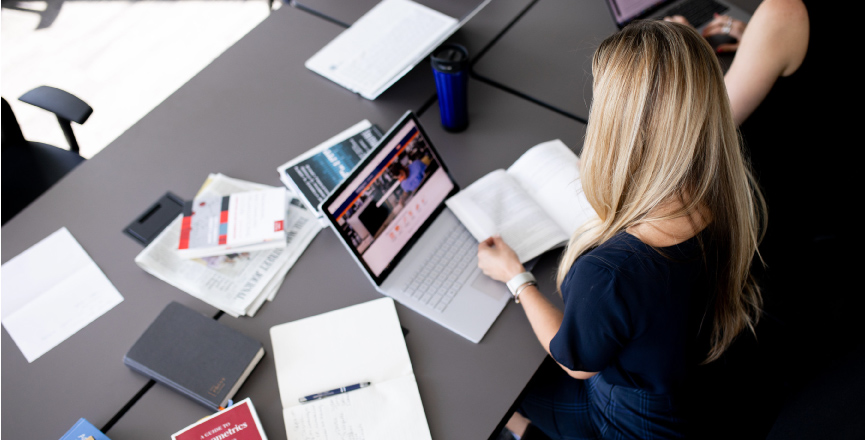 A Blended Online and In-Person Classroom Experience
The Pepperdine Graziadio Part-Time Hybrid MBA program is a flexible degree option for select Fully Employed MBA (FEMBA) candidates that blends in-person class sessions at the West Los Angeles graduate campus with online, live learning sessions and self-paced activities.
Classes meet over the duration of a 15-week term, with seven weeknight or four Saturday on-campus sessions and eight online, virtual classes held on Thursday evenings. The hybrid format features a general management concentration that includes cross-disciplinary elective options.
Take the Next Step
Learn more about how to achieve your career goals with the Pepperdine Graziadio Part-Time MBA program.
On-Campus and Hybrid Format Comparison
Weekly schedule

Variable, depending on course selection

Set schedule: virtual synchronous sessions occur on Thursdays; in-person class meetings occur on Thursdays and/or Saturdays

Curriculum

38 units of core courses
14 units of electives (12 must be completed within a chosen concentration)

38 units of core courses
14 units of electives (students complete General Management concentration through cross-disciplinary electives)

Experiential Learning

2 required weekend immersions (BSCI 650 and PGBS 670J)

2 required weekend immersions (BSCI 650 and PGBS 670J)

Typical course load per term
Length of each academic term
Traditional On-Campus
Hybrid
Key features

In-person class format
Courses offered at multiple regional campuses
Multiple academic concentrations available for degree specialization

Blended class format with a combination of in-person and online sessions
In-person classes held at the West Los Angeles Graduate Campus
Consistent program schedule
General management concentration with cross-disciplinary elective options

Delivery Method

Courses delivered through in-person instruction

Courses delivered using a combination of in-class instruction, virtual synchronous (real-time) sessions, and asynchronous (self-paced) activities

Class attendance requirement

Classes meet on campus on a weekly basis for the 15 week term
A typical class meets for an average of 4 hours per week

Classes meet on campus 7 weeknights or 4 Saturdays over the 15 week term
Classes meet online on Thursday evenings for a total of eight times over the course of the 15 week term
Hybrid MBA Benefits
World-class Fully Employed MBA with a flexible schedule
Evening and weekend MBA classes for working professionals
Opportunity to combine in-person and online learning with a hybrid format at our West LA campus
Rigorous, experience-driven learning that can be applied immediately in your career
Outstanding faculty with a unique combination of academic accomplishments provide real-world industry experience
Who Should Apply?
The Part-Time Hybrid MBA (FEMBA) option is designed for working professionals living in the greater Los Angeles area that would like the flexibility of having online classes, but also enjoy collaborating with classmates and peers in an in-person, classroom setting. Professionals with strong business acumen, excellent academic credentials, and leadership potential will find the Graziadio Part-Time MBA highly rewarding. To be eligible, candidates must have:
A minimum two years of professional work experience
Fulfilled the admission requirements for the Part-Time MBA program