Going Global with Graziadio
Graziadio Global Business Experience
Uniting the Graziadio School's global and experience-driven hallmarks, the Going Global with Graziadio (G3) program gives students a once-in-a-lifetime opportunity to immerse themselves in real-time international business – both in the classroom and on location abroad.
Why G3?
Globalization means that U.S. businesses are more likely to operate in foreign jurisdictions and to interact with foreign companies. As a consequence, business in the U.S. cannot afford to focus exclusively on the domestic business environment and market assumptions to determine how to do business abroad.
Instead, they must understand key differences in the economic, market, and competitive environment; cultural and behavioral norms; legal and taxation systems; and the consequent impacts on conducting effective business practices in the country they are seeking to export to.
Take the Next Step
Learn more about how to achieve your career goals with the Pepperdine Graziadio Part-Time MBA program.
Gain Hands-on Global Business Experience
Delivered in partnership with the U.S. Commercial Service, G3 requires students to work hand-in-hand with client companies on assessing and developing a plan to introduce their business to the global marketplace. Students gain an in-depth understanding of what an organization must know about conducting business abroad and develop skills in applying that knowledge.
Students work in teams to undertake economic, competitive, and market analyses for a specific global market and to develop a comprehensive "going global" business plan for the client.
Partner businesses gain faculty-led, MBA-level consulting and operational plans for global engagement.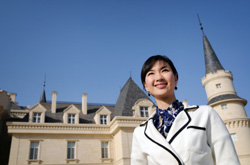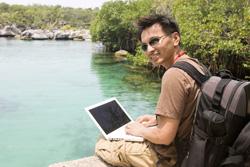 Travel Internationally
At least two students from each team will travel to the target country over the term break for an international field trip to conduct primary research. While abroad, students will gather data, conduct interviews, and establish relationships that will guide and validate the proposed global business development strategy.
This firsthand experience imparts immeasurable knowledge on the cultural, socio-political and environmental business landscape that goes far beyond the boundaries of a textbook.
Work with Company Executives
The objective of this course is to give students the chance to apply theory and knowledge to resolve a global business challenge under real-world conditions. Students work directly with company executives to understand issues, opportunities and goals specific to their business.
First class: You will be introduced to partner company executives who will present their global business challenge.
Midpoint: Teams present a situation assessment, analysis and premise to company management. Each team will meet individually with the professor and executives from the client company.
Final presentation: During the last class session, teams present an executive overview of their recommendations and plan. Company executives will be in attendance to evaluate each team's presentation and provide feedback.
Partner company executives may be available throughout the term to answer questions or provide further insight for your project.