Meet EMBA 99S - Summer 2013!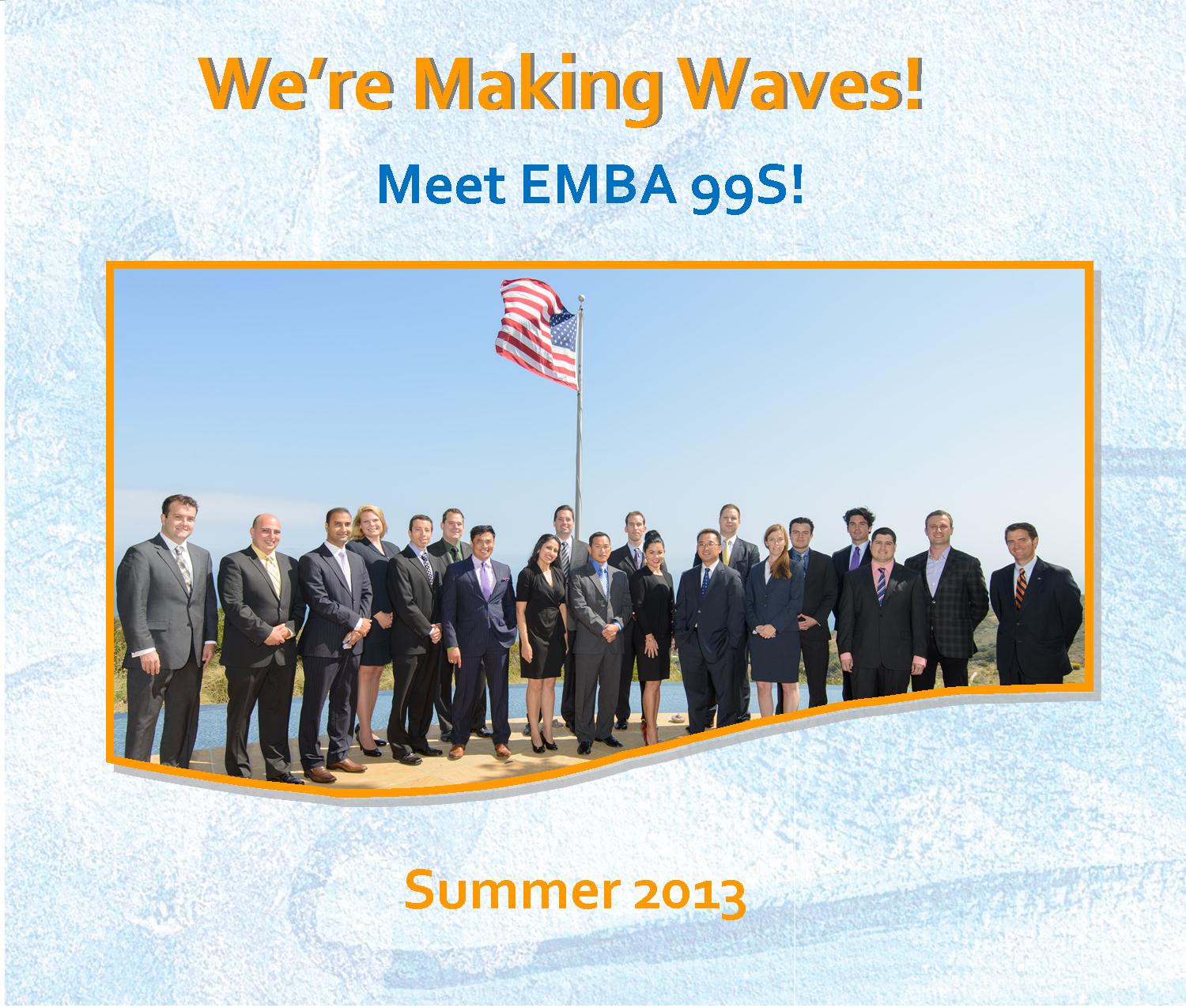 (From left): Stuart Royle, Nick Balasanyan, Khalid Faruqi, Fia Roberts, John Bossinakis, Mario Bruendel, Edward Talamera, Sonia Chhina, Shawn Herrera, Minh Tran, Gordon Kordyak, Andreia Gardner, Daniel Byun, Jeremy Born, Virginia Cowenhoven, Luis Castillo, Alexander Hinds, Carlos Ahmad, Gil Biberstein, Jim Emerick (Class Advisor)

Carlos Ahmad
CEO, CFO, Director
Emilio Ahmad and Sons Ltd.

Carlos manages and directs his family business in Belize. As a director for an importing, exporting and distribution company, Carlos performs managerial tasks that involve financial control, conflict resolution, and creating and implementing dynamic business strategy. He solicits feedback from his team in creating the company's overall strategy and providing high level decision-making. Carlos has interest in expanding and developing his company's global relationships with business associates and their key executives. He earned his bachelor's in business administration from Loyola Marymount University with a concentration in finance.

Nick Balasanyan
CEO
X3 Consulting

Nick is a driven individual with an energetic focus on every aspect of the medical industry. As CEO of X3 Consulting Services, Nick oversees all operations of the company, including training, hiring, and marketing of company services, staff, and call center in the Philippines. His career in the industry started seven years ago when he joined Global Holdings, Inc. as a partner. As COO and later VP of billing and collections, he oversaw all aspects of operations, HR, company growth, marketing, revenue management, and helped it become the largest legal medical MRI company in the country.

Gil Biberstein
Manager, Studio Operations
Walt Disney Studios

In his current role at Walt Disney Studios, Gil leads a broad range of projects that streamline and improve operational processes for DVD, Blu-ray, and digital distribution for In-Home Entertainment. Gil has an extensive background in operations and has worked in the entertainment industry for 12 years. He has led major initiatives including the deployment of new proofing systems for creative artwork, ordering systems for packaging assets and centralized asset management. Gil has led cost savings initiatives to reduce all digital creative costs by an average of 45%, per title. Gil received his bachelor's degree from the University of California, Los Angeles.

Jeremy Born
Partner/Chief Operations Officer
ION ME, LLC

As a partner and chief operations officer of ION ME, LLC, a start-up venture, Jeremy heads the company's strategic and financial planning, negotiates marketing and distributor contracts, and aids in product development and innovation. Jeremy is also the founder of JABB Interactive LLC, a mobile application development firm specializing in creating innovative apps. Prior to his entrepreneurial ventures, Jeremy had a multi-year career in the real estate and financial planning industry. Jeremy earned his bachelor's degree in business administration from Chapman University in Orange, California.

John Bossinakis
Food and Beverage Director
Los Angeles County Fairplex

John is a highly capable and dynamic business executive with more than 17 years of experience in the hospitality industry. Prior to his current role, John owned and operated several successful start-up businesses. He has a passion for the performing arts and played guitar professionally for several years performing in numerous concerts around the world. John holds three citizenships: Canada, USA, and the Europian Union. John is fluent in French, English, and Greek and is certified trilingual by the minister of education. John holds an undergraduate degree in business from Concordia University.

Mario Bruendel
General Manager
Fr. Meyer's Sohn North America

Mario is a self-motivated business professional with more than 10 years of experience in international logistics. He began his career in Hamburg, Germany and became the youngest general manager for one of the largest global logistics providers. Graduating at the top of his class in Hamburg he gained the opportunity to come to the US as an operations manager and has overseen operations for North America. Currently, he runs his own office as the general manager in Newport Beach.

Woo Chul 'Daniel' Byun
Business Manager/Owner
Jihee Chun, DDS Inc.

Daniel is the owner and managing partner of the Jihee Chun, DDS Inc., a dental practice in Southern California. Under Daniel's leadership, the practice has grown from a single office to multiple locations throughout California providing affordable dentistry for children. The practice currently serves thousands of patients, and Daniel holds responsibility to ensure that those patients and their parents have the best experience possible. In addition to patient care and experience, Daniel is directly accountable for the firm's financial performance, technology utilization, and management of partners, doctors, and team members.

Luis Castillo
Area Manager
Hertz Corporation

Luis leads one of the largest off-airports Hertz Local Editions in the country. Luis is highly successful and knowledgeable in sales and management with a proactive approach to creating customer-driven strategies to stimulate sales and expand industry presence. Luis also led a selected group of managers that redesigned and improved the Hertz Management Trainee program for new hires. Luis has exceptional customer and account management skills with the ability to inspire confidence and gain trust through attentive service and efficient problem solving. Luis holds a bachelor's degree in economics from Brigham Young University.

Navdeep 'Sonia' Chhina
Case Manager and Utilization Review Nurse
Simi Valley Hospital

Sonia has nine years of critical care nursing leadership and case management experience. In her current role, she oversees Medical-Surgical Units, Emergency and Intensive Care Unit, and is operationally responsible for a team of physicians and nurses. While balancing the profitability needs of her organization, she is adept at promoting quality and cost effective medical solutions. Sonia earned her bachelor's degree in psychology from University of Maryland, College Park. She also holds a bachelor's degree in nursing from Catholic University of America, Washington, D.C. Her nursing clinical training was completed at Georgetown University Hospital and George Washington University Hospital.

Virginia 'Ginny' Cowenhoven
Director, Corporate Strategy
The Bakersfield Californian

Ginny heads corporate strategy at The Bakersfield Californian, the daily newspaper for Kern County. She has been with the Californian for more than 10 years and has been involved in market research, CRM, marketing and sales, and brand and strategic marketing. In corporate strategy she oversees the development of company culture, innovation and strategic development, and external company communications. As a family owner and the next fifth-generation leader she is responsible for contributing to editorial board positions and endorsements, sits on the board and is a director on The Bakersfield Californian Foundation. Prior to this role, Ginny worked in communications specializing in high-technology advertising.

Andreia Gardner
Sales Manager
Amgen Inc.

Andreia is a senior manager that provides strategic leadership and go-to-market initiatives which maximize sales, grow market presence, and develop customer relationships in the biotech, pharmaceutical, and life sciences industries. Andreia has a successful track record penetrating Latin American markets and maximizing business development in this region. She has a unique ability to leverage multilingual fluency in English, Spanish, and Portuguese to support expansion. Andreia earned her bachelor's degree in pharmaceutical science from the University Sao Francisco, in Brazil.

Shawn Herrera
CEO
CheerForce Inc.

Shawn has 20 years of entrepreneurial business experience in a wide range of industries including information technology, insurance, aerospace/defense, and sports/recreation. He started his first company (Pegasus Technologies) while completing his bachelor's degree in business administration from the University of Southern California. Shawn developed Pegasus into the pre-eminent IT firm servicing Southern California Farmers Insurance agents. Currently as co-founder and CEO of CheerForce, Shawn leads one of the largest cheerleading and gymnastics organizations in the United States, with six locations throughout California.

Alexander Hinds
Vice President / Owner
H2W Technologies, Inc

Having been born into the motion control industry, Alexander is compelled to grow the family business. His latest company, H2W Technologies, designs and manufactures linear motion control products, such as motors and positioning stages, with an emphasis on custom designs. H2W services a variety of industries including semiconductor, medical, aerospace, military, research, and amusement park rides. Alexander is an ambitious individual who relishes learning all facets of business. His current responsibilities include overseeing information technology, marketing, operations, purchasing, and production. Alexander has an extensive background in computers and technology with prior experience in the video game industry.

Gordon Kordyak
Deputy Director
USAF Space and Missile Systems

Gordon is an aerospace professional and certified program manager with more than 12 years of experience leading the Department of Defense acquisition programs for the US Air Force. He is currently deputy of the Space and Missile Systems Center, Space Superiority Directorate, Logistics and Sustainment Division; overseeing the management on 22+ weapon systems, advanced technologies, and infrastructure capabilities. Gordon earned his bachelor's degrees in the fields of mathematics and political science from the University of Redlands and master's degree in international diplomacy and conflict resolution from Norwich University.

Fia Roberts
Medicare Risk Operations Manager
Health Net, Inc.

Fia is a dynamic business professional with more than 20 years of experience in managed healthcare operations. In the spirit of collaboration, she maintains relationships with key strategic partners nationally. Fia is responsible for developing and managing strategic prospective plans, maximizing provider documentation and reporting to the Centers for Medicare and Medicaid Services (CMS). Passionate about healthcare, Fia is results oriented and determined to assist in improving the industry. While raising small children, she earned a bachelor's degree in business administration.

Stuart Royle
Vice President and General Manager
GKN Aerospace

As vice president and general manager of an aerospace manufacturing facility, Stuart leads a niche business within GKN Aerospace. He is responsible for all aspects of that business, including business development strategy, operations, and financial performance. As a graduate of GKN's International Leadership Development Program, Stuart has experience in the automotive and aerospace industries, and in the UK, Germany, and the US. His previous roles with GKN have included contracts management, program management and project engineering. Stuart earned his master's degree in mechanical engineering from the University of Nottingham in the UK.

Edward 'Eddie' Talamera
Commercial Account Manager
W.W. Grainger Inc.

Eddie has been in a multi-million dollar sales role with Grainger for about a year. He is responsible for providing consultative selling counsel to 45 business accounts on more than a million products, services, and solutions. Prior to joining Grainger, Eddie was a manager with Airserv Corporation, where he managed and supervised a team of over 200 people who provided outsourced passenger services to United Airlines and US Airways in Denver. He is also an accomplished army officer with a total of three tours to Iraq and Afghanistan. Eddie earned his bachelor's degree in criminal justice from California State University, Sacramento.

Minh Tran
Superintendent
Kone Inc.

Minh is currently a superintendent at Kone Inc. a leading provider of elevators, escalators, and auto-walks. In this role he oversees a highly specialized labor force and is responsible for overall profitability and growth as well as managing a global supply. Prior to joining Kone, he worked at NBC Universal, a former business unit of the General Electric Company as a global sourcing manager. Minh has a bachelor's in economics from Gettysburg College, PA. Shortly after college, Minh went on to serve and lead Marines in combat.