Travels and Tranformations in Costa Rica
Sarah Rowe, MSOD '15
If you listened carefully you could hear the sound of tropical birds coming from the gardens outside. But the focus of this group of students was not on the immediate environment, but rather on some deeper place within. As we sat together in our final session of the MSOD Costa Rica intensive, we meandered through observations and personal realizations that we had come to over the course of the last ten days together. In this time, we had covered such topics as appreciative inquiry, complexity theory and strategy and organization design, each in the context of client work, field observations and community development. The depth of the professional learning of this work was accented by its application to our cohort community and our own understanding of self. A unique combination of higher levels of self-awareness and business acumen characterized our final realizations about the program that day. And while our experiences were each unique, words such as "expanded", "reminded", and "awakened" repeated themselves as we reflected together. It was an experience not to be forgotten.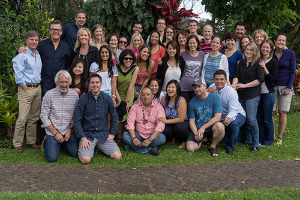 Our practicum began with a two-day intensive learning experience around the practice of appreciative inquiry (AI). As a system-wide approach to identifying and enhancing an organization's positive potential, AI involves a process of inquiry focused on past and present capacities. Side by side clients from various for- and non-profit organizations headquartered in San Jose, we engaged in an afternoon workshop on the practice of AI. We then worked in partnership with our client groups to develop an AI intervention catered to each organization's particular needs. Later the following day we traveled to our respective client sites to implement the intervention. Returning to a workshop setting, we debriefed this experience with our clients and the larger cohort, sharing learnings and determining best next steps. The experience was an example of personal and professional growth on the part of both students and clients brought about by the practice of AI and the collaborative nature of the intervention. In the case of the client with whom my team worked, the AI discovery process held a quality of empowerment for the client's role in effecting positive change in their company now and into the future.
Several days followed in which we attended workshops and lectures on research methods and strategy and organization design. The cohort visited La Carpio, an impoverished community of San Jose where we were welcomed by the Costa Rican Humanitarian Foundation (www.crhf.org), a non-profit organization committed to developing creative and economical solutions to a wide range of social problems in Costa Rica. Through their facilitation, we visited various parts of the community to whiteness to the lifestyle and struggles of those in this region. The following day we divided into groups and conducted informational interviews with the people of La Carpio. With this experience in hand, we engaged in several days of discussion, reflection, lecture, and trio work together on complexity theory and its application to our experiences in Costa Rica thus far.
Some believe that organizational changes are preceded by individual behavioral changes. That community is the lens through which great transformation takes place within organizations. And that the organization of people and their development is the foundation of OD. These are the principles that stood out as truth to me as I experienced this practicum. As each experience built upon the preceding, my time with my cohort in this beautiful country and with those whom we met, underlined the integral role of relationships in the practice of OD and the importance of dynamic communication amid cultures, communities and complex transformations.
An essential aspect of these learnings was the role of the self. The concept of "self as the instrument" is embedded in Pepperdine's MSOD program offerings and points to the importance of recognizing that what we bring to the table as consultants – our past and present lens – characterizes our style and effectiveness as practitioners. In this practicum, our understanding of complexity and strategy deepened as we were given opportunities to witness our own behavior in complex environments: from the diversity of our experiences with the communities of La Carpio to the interplay of relations within our own cohort. I found this to be a powerful approach to experiential learning that had a strong impact on my personal ability to apply organizational theory to OD practice. Truly this practicum added significant depth to my MSOD experience. Our cohort has grown together as individuals, practitioners and community members as a result of this time and we look to our next intensive in China for the adventure to continue.