The First Intensive: The Journey Begins
Brenda Stone, MSOD '17
The week was precious, relentless, revelatory. In hindsight, the readings and assignments provided hints to the rigors in store for this first intensive of the MSOD program. But none of us were really prepared for what we experienced nor could we have expected what we would deeply learn in just nine days.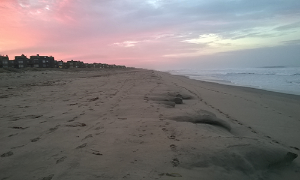 The week began with us connecting bodies and voices to the miniature yammer photos we'd grown accustomed to. After just a bit of unpacking and a quick few minutes of introductions, the sessions began. First, we were each engaged in reviewing a set of ideas and asked to articulate what resonated with us and why. Next, a lecture on a framework or model would be followed with time to apply, practice and reflect. The pattern would repeat itself throughout the week – in different individual, small group and large group iterations – from 9am to 9pm every day. Actually starting at 8:30am…or 8am if you like bacon as much as I do.
The MSOD design, content, and instructors/coaches were nothing like any classes or teachers I'd had before. The concept of Self as instrument of change grounded the session, and it was important to remind myself that this was THE opportunity to focus on self-awareness and to take full advantage of coaching and feedback both from the instructors and from my Tau Prime colleagues. It became very clear that learning about, and changing, oneself requires thoughtful, generous and expert guidance, plus a lot of personal motivation and hard work. By 9pm every day, we were all pretty exhausted. Even if we'd had second helpings of dessert that night.
There are twenty six of us in Tau Prime. We are like-minded in so many ways but also wonderfully different in our experience, expertise and selves. We bonded over a team volunteer activity where we managed to complete in 4 hours what typically takes 8 hours (yes, this is a challenge to future cohorts!). We surprised each other with our insights, talents and deep regard for one another. Each of us arrived at MSOD via different paths. Many were even challenged by last-minute crises at work that were hard to tear away from. But each of us came determined and filled with purpose and together we have developed Tau Prime from a mere cohort of students to now a bespoke community of OD practitioners. I found myself dreading having to say goodbye at the end of the week, even as I also yearned to rejoin my family and work community.
This first intensive has been a precious experience for me and I am grateful for the personal revelations this time has allowed. The pace felt relentless, but the care and generosity from all were also relentless to the same degree. With much gratitude, and a great sense of excitement that I'm in this program, I eagerly look forward to the next steps in this MSOD journey.