Connect With A Graziadio Student
MS in Organization Development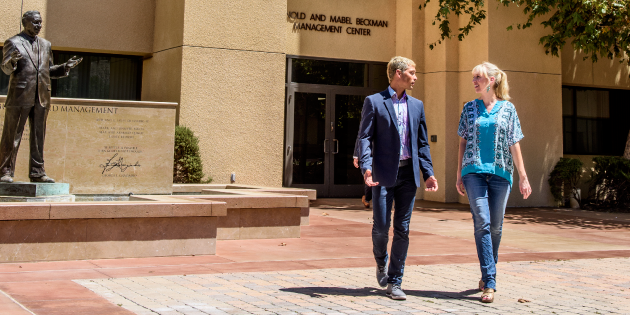 Connect with a current student for an inside view of the Pepperdine Graziadio MS in Organization Development program. We offer one of the most respected and pioneering OD programs in the nation, and the student perspective can better illuminate our unique, hands-on approach to your learning.

Share your contact information with us and an enrollment advisor will follow-up to help schedule your introduction.

Meet an MS in Organization Development Alumnus
We can also connect you with one of our MSOD alumni for insight on how the program translates into personal and professional development. Because the Pepperdine MS in Organization Development is constructed around teamwork, participants quickly transform from fellow students to trusted colleagues, forming relationships that endure long after graduation. Today, more than 1,200 MSOD alumni are agents of positive change in organizations around the globe.


Mary Price, Xi Prime '13
My MSOD Experience
The MSOD program was life-changing for me both personally and professionally. Personally, I grew in ways that I didn't realize were in my capability. Professionally, I gained a deeper understanding of leadership, group dynamics, and cultural implications from a global perspective which influences the way I lead and think about my work today. The skills gained throughout the program are transferrable across industries, functions and roles, and that was very appealing to me.
My Story
Mary Price leads Talent Acquisition for Sales and Marketing at LinkedIn. Her teams are responsible for using data-driven recruiting, as talent advisors to the business. Her career and experience have been built around people and doing the kind of work that has transformed people's lives. Her expertise is in technology, high-growth and fast-paced companies that are focused on changing the world.
Raed Al-Adl, Rho Prime, '16
My Experience
The Pepperdine's MSOD program has not only enriched my OD knowledge but introduced me to new ways to look at the field. the design of the program allowed me to be a better person and not only a better OD practitioner. I managed to practice OD in four different continents with four different business cultures and methods, i am not only graduating with MSOD Degree but with a cohort that had a big impact on my development.
My Story
Raed is a Canadian/ Syrian citizen who is practicing OD as an Organization development Manager for a leading FMCG company in Saudi Arabia, in my job I am handling OD Design, Talent Management solution, Succession Planning, Performance Management and Oracle HCM Development. Raed has worked previously in Canada, Syria, Dubai and Saudi.
Cynthia Fields, Pi Prime, '15
My Experience
My experience in Pepperdine's MSOD program was truly transformational. Through its ingenious design, I engaged in an unexpected and introspective journey towards self-discovery. This process coupled with the opportunity to apply my learning through intense domestic and international practicum sessions heightened my level of self-awareness. As a result, I have become a more confident and effective practitioner. I hold a great appreciation for the MSOD program's academic rigor, elite faculty, and high-caliber students. My decision to become a student of Pepperdine's MSOD program ranks among the top decisions of my entire life.
My Story
Cynthia works in the Employee and Organizational Development Division of Human Resources at East Bay Municipal Utility District. In this role she is responsible for helping to launch a new organization-wide values initiative; primary efforts for implementation include: communications, performance, embedding, employee recognition and teamwork. She also serves as Human Resources Director for a family owned transportation business. Previously, Cynthia worked within state government, where she focused on change management, training development and instruction, employee engagement, and leadership development.
Luis Morejon, Pi Prime, '15
My Experience
The Pepperdine MSOD program introduced me to new ways of viewing and responding to people, uncertainty, and organizational change. In doing so, I developed the ability to step back and re-assess situations, challenge existing mindsets, and integrate new insights into action—all in real time.
Professionally, the return-on- investment payoff began immediately. I was able to apply many of the foundational concepts and lessons learned during the first intensive as soon as I returned to my organization. The international practicums were instrumental in helping me understand the cultural nuances that impact organizational effectiveness, and how to prepare accordingly.
On the personal side, I discovered new areas of strength and strategies to minimize depleting patterns. More importantly, I built the foundation for continued self-reflection and learning while joining a very special group of life-long friends and colleagues.
My Story
Luis Morejon is a Human Resources Director & Business Partner at Kuehne & Nagel, a global logistics and supply chain management organization. In his role, Luis works closely with the leadership team and helps to drive large scale change initiatives, assess culture & team effectiveness, and design and facilitate corresponding sessions. Overall, he partners with business leaders to co-creates the desired cultural environment and fully align the human capital plan with the overall organizational strategy.
Addam Marcotte, Lambda Prime, '10
My Experience
MSOD was the bedrock of my OD and consulting career, providing me the tools, models, and skills needed to be a knowledgeable advisor to sophisticated clients with complex challenges. In addition to the practical tools and frameworks, MSOD also provided me profound clarity in my personal life to identify my biases and eliminate blind spots. I am abundantly grateful for my MSOD education and experience. MSOD isn't just a Master's degree; it was a life-changing experience and inflection point in my personal and professional journey.
My Story
Addam Marcotte is Vice President of Organization Development for FMG Leading, an OD-based consulting firm. As a consultant and executive coach, Addam helps leadership teams navigate enterprise-wide change, gain strategic alignment, and focus development of their human capital. His client work involves 1:1 coaching, facilitating team sessions, and assessing organizational culture. Internally, he runs FMG Leading's Analytics and Organizational Change divisions. Previously, Addam has worked with DreamWorks Animation and UCLA in a variety of OD and business leadership roles.
Kimberly Jutze, Kappa Prime '09
My MSOD Experience
The Pepperdine MSOD Program was instrumental in setting me on the career path that I'm currently on. Through this program I not only learned the fundamentals of organization development and honed my consulting skills, I also discovered my professional calling— helping social enterprises and social justice organizations strengthen the organization behind their social change mission.
My Story
Kimberley Jutze is the Founder and Chief Change Architect of Shifting Patterns Consulting, which is a B Corporation that facilitates social change by working alongside changemakers to enhance their financial and organizational sustainability. Throughout her career, Kimberley has helped organizations in Africa, Asia, Europe, and North America determine their strategic direction, secure funding, and build stronger teams.