Program Courses and Descriptions
Master of Science in Human Resources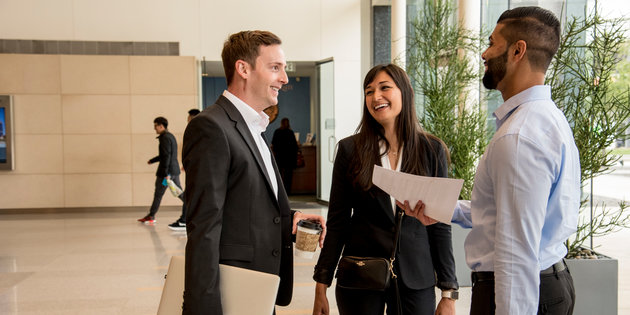 Part-Time Courses
Trimester 1 - Human Resources: Both Personal and Global
Personal and Leadership Development Workshop
BSCI 650 (1 unit)
At the start of your Human Resources studies, our Personal and Leadership Development Workshop orients you to the Pepperdine MSHR program with guidance on ethical behavior, personal career development, and the formation of effective HR management skills. This workshop is graded credit or no credit, and is taken in conjunction with our 4-unit Behavior in Organizations course.
Behavior in Organizations
BSCI 651 (4 units)
As you solidify your identity as an ethical practitioner and MSHR student (in BSCI 650, above), Behavior in Organizations allows you to look outward and assess how members of an organization behave pursuant to personal interests. Students learn to apply the behavioral sciences to management challenges by better understanding self-awareness, motivation, organizational change, and diversity. Development of your oral and written communication skills is a key part of this class.
Global Human Resources and Inclusion
OTMT 677 (2 units)
For successful organizations in the 21st century, the market for talent is a global one. As organizations increasingly operate on a global scale and employ a global workforce, significant Human Resource challenges emerge. Among the topics to be addressed in this course are standardization vs. localization of human resource policies, cultural differences in how management and leadership are viewed, and the social, political, and cultural issues facing global human resource managers. The implications of cultural diversity as an organizational strategy are examined through the joint lenses of both challenge and opportunity.
Trimester 2 - Leading Change and Incentivizing Employees
Financial Accounting
ACCT 591 (2 units)
This course, which is for students with no previous study in accounting, presents accounting principles and concepts that provide the foundation for the measurement and communication of financial data. Specific topics include valuation of resources, accounting for debt and equities, income determinants, and analysis of cash flow.
Organizational Dynamics and Managing Change
OTMT 672 (4 units)
Contemporary organizations exist in social, political, and economic environments that change rapidly and unpredictably. This course deals with how to manage changes by looking at strategy, organization design and processes, and multi-organizational systems. Theories and practice of change management, which deal with the individual, group, intergroup, and organizational levels, are discussed. Methods for diagnosing organizations and designing interventions that will increase an organization's effectiveness are explored. Specific topics include traditional and contemporary approaches to change management, organization learning, consulting skills, and organization development.
Total Rewards
OTMT 674 (2 units)
Central to this course are modern approaches to Total Rewards, most specifically employee compensation and benefits, and the implications of these practices relative to motivation, engagement, and productivity in the workplace. Students will explore key issues and challenges facing compensation managers as they strive to attract, motivate, retain, develop, and engage high performance talent in today's global economy, including concepts, models, strategies, and practices within the Compensation discipline. In addition, students will gain an understanding of Employee Benefits through an overview of statutory and voluntary benefits, health and welfare benefits, ERISA and other major benefits legislation, and elements of administration.
Trimester 3 - Legal and Economic Human Resources Implications
Economic Concepts
ECNM 592 (2 units)
Economic Concepts introduces the principles and application of microeconomic analysis. The course fosters students' understanding of, and ability to apply, economic reasoning and decision-making to both their personal and professional lives. The course has a strong emphasis on how market economies can affect the welfare of a society. It addresses the role of government in correcting potential failures in a market system including abuses of monopoly power and environmental externalities such as excessive pollution and underfunding of education. Topics include supply and demand, elasticity, production and cost analysis, and competition and monopoly. The course explores ethical dilemmas that people face in a capitalist society and offers guidelines to help values-centered leaders make the right choices in business.
Employment Law
LEGL 632 (2 units)
Discrimination based on race, color, religion, national origin, gender, age, and disability are illegal under federal and often state law in the U.S. The purpose of this class is not only to introduce the student into a more detailed study of employment law, but also to demonstrate how Rule of Law in the U.S. works. American Rule of Law just might be our best competitive advantage in the 21st century. 
Talent Management
OTMT 676 (4 units)
As the 21st century global economy has transitioned from the Knowledge Age to what is being called the Talent Age, talent is viewed as being the primary differentiator between great companies and ordinary ones. In this context, talent management provides an overarching strategic lens and a set of functions that can drive the management of human capital, creating sustained competitive advantage for organizations. This course provides an in-depth analysis of the talent management functions of workforce planning, talent acquisition, learning and development, performance management, career planning, employee engagement, and retention. Prerequisite(s): BSCI 651 Behavior in Organizations (4)
Trimester 4 - Working as a Team in the 21st Century
Digital Platforms for Human Resources Processes and Information Management
ISTM 629 (2 units)
Digital technologies such as social media, mobile devices, high bandwidth connectivity, cloud-based storage, and an endless portfolio of personal and enterprise software applications are combining to provide organizations with powerful digital platforms to support HR recruitment, development and retention processes, enhance employee engagement, and enable comprehensive analytics to provide rich insights for HR decision-making. This course introduces students to the range of contemporary digital technologies available to support the various processes along the HR value chain, and how these individual technologies must integrate into a coherent digital platform. In addition, the course provides an understanding of the importance of information as a resource for HR decision-making, and the essential attributes of an effective enterprise HR system. Students will learn how to conceptualize the information needs for the HR function and how to capture, analyze, and interpret data to satisfy those needs. Finally, students will also become familiar with behavioral and organizational issues associated with the effective adoption and use of digital technologies and enterprise HR systems.
Organization and Job Design
OTMT 675 (2 units)
This course provides an introduction to the multiple perspectives of theories and diverse models of organization and job design. This course examines the interaction among human resources and job design for sustainable global organizations by considering the impact of organization design, external forces, and management practices from a macro-organizational perspective. Our study concentrates on job and organization design as the central focus of multiple organizational systems (managerial, structural, cultural and sustainable) subsystems as they relate to the broader global environment.
ELECTIVES, 4 units from the following:
Business Negotiation and the Resolution of Conflict
LEGL 684 (4 units)
This course addresses the dynamics of conflict, including techniques for its avoidance as well as alternative avenues of resolution should it occur. Communication and decision making will be studied, with attention to various methods of resolving disputes other than traditional litigation. Students will identify useful negotiation and conflict-avoidance procedures and implement them in practical exercises. Class discussion, simulation, role playing, and research methods will be used as part of understanding how the various procedures apply. Students will negotiate, mediate, arbitrate, and argue issues in a variety of circumstances including the litigation environment.
Advanced Principles of Organizations and Leadership
OTMT 670 (4 units)
This course examines the interactions among human resources, technologies, organization design, external forces, and management practices from a macro organization perspective. Study concentrates on organizations as systems and managerial, technical, structural, and cultural subsystems as they relate to the broader environment. The course also examines the concepts of system design, work design, and management theory. Prerequisite(s): BSCI 651 Behavior in Organizations (4).
Managerial Creativity and Innovation for Leadership
OTMT 678 (4 units)
Business leaders must respond to such contemporary realities as the information explosion, intense competition, accelerated social and technological change, fresh expectations from new generations, and ever-higher customer demands. Therefore, contemporary leaders must be more creative and innovative. This course focuses on imagination and invention ("creativity") and on the productive results of such processes ("innovation"). To enhance business problem solving and effective leadership, students will integrate a dozen linear methods with a dozen nonlinear, imaginative tools.
Trimester 5 - Values-Based Leadership and Strategic Human Resources
Leadership and Ethics
BSCI 635 (2 units)
This course will provide a foundation for the art of value clarification and responsible leadership within organizations and society. Students will learn the roots and values of ethical expression as a lifestyle. By experiencing and working through scenarios and case studies, learners will isolate the ethical issues, both pro and con, and propose viable alternatives consistent with ethical and moral values.
Human Resource Analytics and Insights (2 units)
DESC 638 (2 units)
The availability of data to organizations affords business leaders the opportunity to analyze and improve the impact of HR processes and initiatives on strategic business outcomes. Workforce-related metrics can offer companies valuable information about their talent pool to evaluate and improve practices including talent acquisition, compensation, development, productivity, retention, and overall organizational performance. The course focuses on the tools and skills needed to make evidence based linkages between HR and organizational performance including data analytic techniques, interpretation, and reporting of analyses to decision makers. The student will understand the application of appropriate statistical techniques for the types of date and decisions they need to address.
Strategic Human Resources (4 units)
STGY 655 (4 units)
The role of HR as a strategic partner in creating customer and economic value is central to organizational success. Students learn to formulate and execute a business-focused HR strategy that drives value for an organization; implementing strategic plans in global environments is especially emphasized. The course offers practical tools and frameworks to enable students to link HR strategy with business strategy–topics include the social, ethical, and legal environment of an organization, diversity in the work place, organizational culture, and business strategy. By understanding the strategic competitive environment of the organization, students gain deeper understanding of the role human resources plays in achieving organization's goals. Prerequisite(s): OTMT 676 Talent Management (4)