Innovation Seminar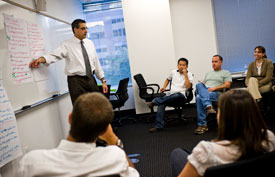 Creating the Future of Organizations Through Leading with Creativity and Innovation
Check back soon for dates and details about this seminar.

Pepperdine's Innovation Seminar is a curriculum-based program developed by the Graziadio School of Business and Management, delivered by Pepperdine faculty and certified trainers, and dedicated to creating leaders who can consistently and systematically generate innovative solutions to the business challenges they face every day. This highly practical seminar series utilizes the Simplex® System of Applied Creativity (a proven method for producing systematic innovation) and the work-related problems submitted by the participants themselves, to train executives and managers in the processes, skills, and tools of applied creativity. It is delivered in a two-day session designed to enhance personal creativity. Finally, the seminar will be held at the breath-taking Graziadio Executive Center on Pepperdine's Malibu Campus.
Learning Objectives:
Learn and develop your own creativity profile
Study the fundamentals of innovation, including the principles and processes of creative problem solving
Learn the eight steps to developing innovative solutions
Apply creativity to problem solving through simulation exercises
Who Should Attend:
The Innovation Seminar is a training program designed for business leaders and executives seeking to become "intrapreneurs" (entrepreneurs within corporations and stable firms). The program qualifies for continuing education credit for CPAs and attorneys licensed in the State of California and may qualify for other credentials or states of jurisdiction.
Be sure to register early; a maximum of 12 registrants are allowed.
Program Details:
Dates and Times:
Check back soon for dates.

Location:
Graziadio Villa Executive Center at Pepperdine University
24255 Pacific Coast Highway
Malibu, CA 90263
Cost includes materials, refreshments, and lunch each day. Attendees will receive Simplex System of Applied Creativity© workbooks and materials that can be uses in creative problem solving and taken back to their workplace.
---
Contact Us
For more information about the program, please contact:
Karel Kreshek
Interim Associate Director of Executive Education
(310) 568-5787
karel.kreshek@pepperdine.edu