Sustainable Business Strategy Immersion Program in Japan
Learning the Art of Building Businesses to Last from the Masters of the 100-year Strategy in Japan
Contact Rachel Williams at rachel.williams@pepperdine.edu or 310-568-5787 for information about this program.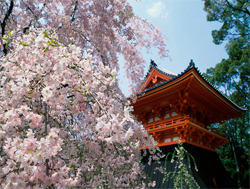 Travel to beautiful Japan during cherry blossom season with Pepperdine faculty to participate in a one-of-a-kind educational experience focused on studying sustainability in business. During this 5-day immersion program, participants will meet with top executives of Toyota Motors and Toray Industries, travel to the oldest operating business in the world, learn to make tea from The Grand Tea Master, and visit the UNESCO World Heritage Zen Temple site. Pepperdine faculty will incorporate the site visits into a discussion of sustainable business strategies by contrasting US and Japanese business strategies, interpreting the art of making tea into business processes and contemplate the simplicity of Zen into business strategy.
Lead faculty: Tetsuya O'Hara
Meet with top executives of Toray Industries, a $20 billion multi-national corporation, and discuss global strategy
Tour Toyota Motor manufacturing plant and meet with management in Nagoya
Travel to Kyoto to learn the art of making tea with Dr. Genshitsu Sen, the 15th grand tea master
Spend a night in Houshi Ryokan, the world's oldest continuously operating business. Learn about the 46th generation family-run business and environmental sustainability used in managing the property's natural hot springs.
Study simplicity at the UNESCO World Heritage site Ryoanji Zen Temple
Learn the key elements of sustainability in strategic planning as embraced by Japanese companies through faculty led discussions
Who Should Attend:
The Sustainable Business Strategy Immersion program in Japan is designed for business managers, owners and executives seeking to gain an understanding of successful sustainable business strategies via a travel adventure through Japan.
Program Details:
Dates:
For the detailed agenda and travel specifications, click here.
Location:
The program begins in Nagoya, Japan, and ends in Kyoto, Japan.
Cost:
The program costs include:

Five nights of lodging
All transportation during the program
Site visits
Program materials
Majority of meals during the program
Participants are responsible for their own airfare and transportation to/from the program.
Single occupancy: $5,500
Double occupancy: $5,000*
* If you are registering for double occupancy, you must identify the travel companion at the time of registration and both participants must register within 24 hours of each other or your registration will be cancelled.
Contact:
Contact Rachel Williams at rachel.williams@pepperdine.edu or 310-568-5787.