Distinguished Alumnus and Student Speaker Honorees
The Distinguished Alumnus Award and student speaker represent the highest honors the Graziadio School bestows upon an individual. During each commencement ceremony, the awards are presented to distinguished leaders and luminaries who have achieved preeminence in academia and business. The honorees deliver the keynote addresses at graduation and share their insights and guidance with the business leaders of tomorrow.
August 2014 Speakers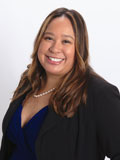 Student Speaker
Iwalani Camacho
Fully-Employed MBA
Iwalani Camacho is a native of Guam and was raised in Seattle. She started her career in advertising and marketing after graduating in 2007 from Pepperdine University's Seaver College. She worked on accounts such as Lionsgate and T-Mobile's Hispanic national media efforts. Currently a director of national media at Fox Broadcasting, Camacho is responsible for placing multi-million dollar national media advertising that includes negotiating large-scale deals with cable networks and radio conglomerates such as Clear Channel, Katz, Pandora, Spotify, Shazam and iTunes Radio. She has worked on launching FOX hit shows such as Brooklyn Nine-Nine, The X-Factor, New Girl, The Mindy Project and Sleepy Hollow. Upon graduation Camacho plans to use her marketing expertise to teach part-time and inspire students to enter careers in advertising.
Past Honorees