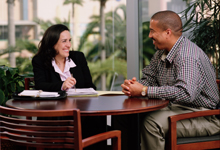 A Pepperdine degree is an investment in your future. In fact, Forbes magazine ranks the Graziadio School among the Top 20 in the nation for return on investment.
Pepperdine's financial aid advisors can help you utilize a wide range of resources to fund your education.
Did you know...?
Federal loans may cover your entire tuition, fees and other costs of attendance. The Federal Stafford loan may disburse about $6,800 per term and the rest may be covered by Federal Graduate PLUS loans.
You may qualify for a Stafford loan regardless of your current employment or credit history. If your employment changes during your studies, it will not impact your loan.
You will not be required to start repaying your loans while you are in school. Repayment starts six months after you earn your degree.
You may defer repayment of your federal loans if you decide to continue your education or request forbearance if your repayment becomes a financial hardship.
Many companies offer full or partial tuition reimbursement for their employees. Check with your human resources department to determine what kind of education benefits are available.
For more information about tuition, loans, and scholarships or to speak with a financial aid advisor, please contact:
Financial Aid Office
Graziadio Business School
Pepperdine University
6100 Center Drive
Los Angeles, CA 90045
(310) 568-5530
gsbmfinancialaid@pepperdine.edu