National Hispanic Heritage Month: Christina LeRubio
Director of Executive Education Operations
Share a little bit about your background:
Fun fact about me: Many think my last name, LeRubio, is French. Instead, it is a combination of my Vietnamese maiden name, Le, and my husband's Hispanic last name, Rubio. When my husband and I got married, I did not want to change my middle name, Nguyen, because it is my mother's maiden name. Instead, I combined Le and Rubio. For those that are wondering, my sons' last name is Rubio.
What does being part of Hispanic/Latinx community mean to you and your family?
I'm grateful to those before me who made it possible for me to enter into an interracial marriage with a Hispanic person and allowed me to have tri-racial, Argentinian, Mexican and Vietnamese, children. It is my hope that my husband and I are able to incorporate Argentinian, Mexican and Vietnamese traditions into our daily lives.
For me personally, my family history and culture is the basis of my personal story. Everyone's personal story is unique and should be told. It is extremely important to me that my boys know their family's history and heritage, so they are able to share their personal story.
When my husband and I got married, our marriage not only represented the beginning of a new chapter in our stories, but also the combining of our communities and cultures. To honor and celebrate our cultures and heritage, we wore traditional Vietnamese wedding outfits, and had performances by Argentinian tango dancers (Branden's grandparents loved to dance the tango) and Jalisco folk dancers (folkloric dance from Jalisco, Mexico, where his dad's family originated from). As a member that was married into the Hispanic community, it is my responsibility to embrace the many traditions that have been established, to ensure these traditions maintain a part of my family (with my husband) and my sons' individual stories.
Another way for us to honor Branden's hispanic heritage is through language. My husband speaks fluent (Argentinian) Spanish and I hope my boys will, as well (in addition to Vietnamese, of course).
What are some Hispanic/Latinx customs/traditions that are meaningful to you?
One family tradition that has been passed down to my husband, which he will pass down to our sons, is making Argentinian empanadas (savory hand-pies). His maternal Grandma would make them from scratch every Christmas, and now that she is no longer with us, Branden makes them during the holidays using her recipe. When the boys were old enough, he started having them help.
While the boys are in the kitchen making empanadas, I am making tamales (stuffed corn dough). It is something Branden's Mexican Grandma would make during the holidays. Even though she doesn't make them anymore, it is something that I learned to do. Making tamales is a great way to bring the family together and I plan to teach the boys, after they've mastered the empanada!
It is important to me and my husband that they learn to love and keep these traditions alive. While we know that our current cultural family traditions may fade as each generation passes, we are committed to doing what we can to ensure it doesn't. It is our hope that our boys will teach their children the importance of their heritage and the traditions started by those before them, as diverse as it is, so that they can instill the importance in future generations.
What is a local Hispanic/Latinx business that you support?
The easiest way to incorporate Branden's Hispanic culture into our daily lives is through the food we eat. One of my go to grocery stores is Northgate Gonzalez Market, a Mexican family-run business. I'm able to grab fresh made ceviche, tortillas, bolillos (rolls), and pan dulce (sweet breads/pastries- my youngest has to have one with his Abuela for breakfast every weekday!). On days when I don't have much time to meal plan, I'll pick up pre-marinated meats (carne asada steak or chicken) from the meat department or a citrus marinated rotisserie chicken from the to-go counter. During the holidays, it's my one stop shop for all the ingredients I need to make tamales. For Argentinian staples, we frequent El Gaucho Meat Market, an Argentinian owned business, where you can find fresh made empanadas, homemade chimichurri sauce and entraña (Argentinian skirt steak).
What is your favorite Hispanic/Latinx food or recommended food?
One way to experience different cultures is through food and I'm lucky to have been exposed to a variety of cultures through cuisine, including various Hispanic foods. It's hard for me to pick a favorite because I will never turn down a good... (linked to my go to restaurant for each dish)
Salvadoran pupusa (stuffed corn flatbread)
Peruvian ceviche (citrus cured seafood)
Mexican Oaxacan beef barbacoa (slow cooked meat)
Argentinian parrillada with chimichurri sauce (mixed bbq with parsley sauce)
Nicaraguan gallo pinto (rice and beans)
The list goes on (because that's just the beginning and it doesn't even include desserts!).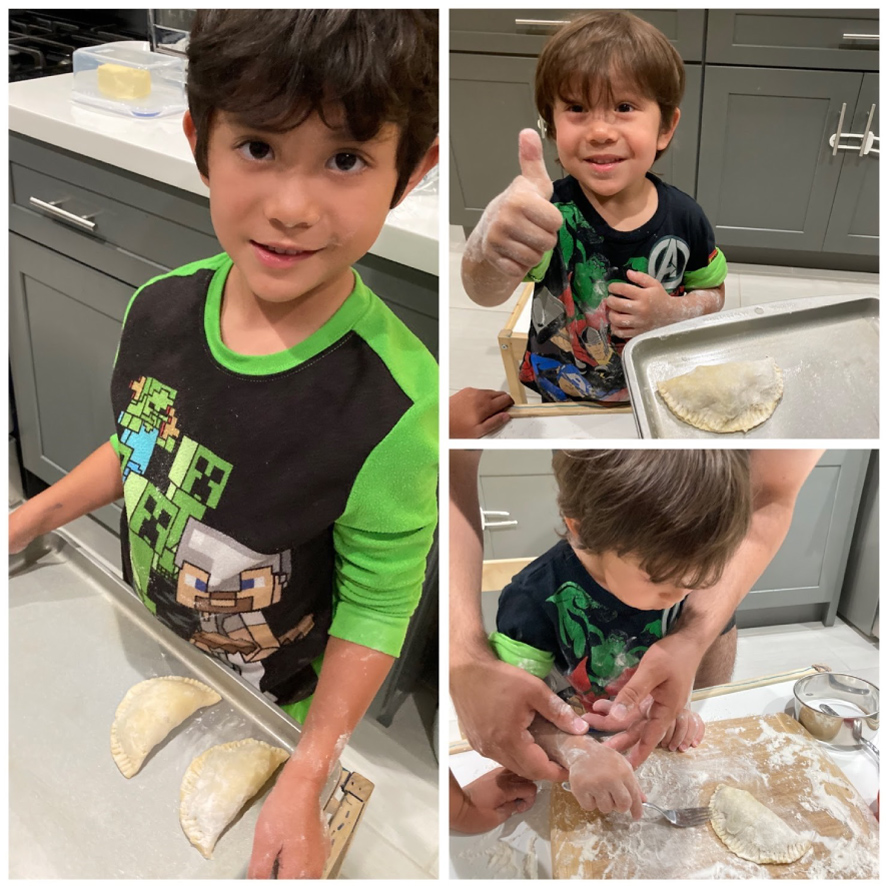 Being born, raised and currently living in Los Angeles, I was and am always a drive away from various ethnic neighborhoods/communities (Little Tokyo, Little Saigon, Little Ethiopia, Little India, Olvera Street, etc...), where you can undoubtedly find the best of it's cuisine. It is important to me that my boys are also exposed to and knowledgeable about the various cultures that surround us, and one way to do this is through food. Not only is it a way for them to learn about their own heritage and culture, it is also a way for them to learn, embrace, respect, and value the diversity around them.
What's your favorite Hispanic/Latinx song or type of music?
For me, music really is a universal language and another way for me to honor the Hispanic culture. While I do not speak Spanish, one of my favorite genres of music is reggaetón and Latin pop (tune in to 93.9 FM or think of the 2017 hit "Despacito" by Luis Fonsi, featuring Daddy Yankee). In college, I would go merengue dancing with my dorm hallmates and in high school, "Oye Mi Amor" by Maná and "Suavemente" by Elvis Crespo were always on my playlist.
Do you have any closing thoughts or comments?
One of my main goals as a mother is to raise respectful, accepting and just individuals. As I teach my boys about the diversity that surrounds them and their own diverse background, I remind them "...that in diversity there is beauty and there is strength." -Maya Angelou
Thank you Graziadio Diversity Council for giving me the opportunity to share a part of my story.