Graziadio Alumni Network - Orange County Council
Community Partnership with Project Access

The Graziadio Alumni Network of Orange County is a proud partner of Project Access in providing Graziadio Business School alumni opportunities to give back to the community by volunteering time, by contributing educational supplies, and by sponsoring a resource center.
What is Project Access?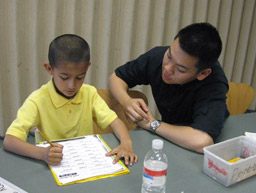 Project Access is an Orange County-based nonprofit 501c(3) organization that assists low-income families by providing health and nutrition programs, school readiness for preschool-age children, after-school tutoring, enrichment programs for youth, teen programs, English as a second language (ESL), and computer access and training for adults and youth. All Project Access programs and services are free of charge and are provided at Resource Centers located at affordable housing complexes. The success of Project Access has been built through generous volunteers and donors like you.
Get Involved!
Volunteer Your Time
Volunteer Professional Expertise - Project Access is actively seeking professionals with expertise in finance, accounting, marketing and law to serve as advisory board members or as board members.
Volunteer at Resource Centers - Project Access welcomes on-site volunteers at Project Access Resource Centers for the purpose of helping children and families.
Donate Educational Supplies
Project Access served over 7,000 children and adults at Resource Centers in 2007, and the number of needy families is rapidly growing. In support of efforts to provide quality programs, the organization is requesting donations of education supplies. To facilitate contributions, Project Access has created online wish lists at Lakeshore Learning and Target.
To donate items from Lakeshore Learning, click here.
Adopt a Resource Center
This exceptional program offers companies the opportunity to sponsor a Project Access Resource Center, thereby reaching thousands of California residents with new opportunities for advertising and community outreach. More importantly, it is a fun, exciting and rewarding way to get your company involved in the community.
---
How to Get Involved
To get involved with Project Access, contact Sondra Contino, Director of Project Access, at (949) 253-6200 x 305 or scontino@project-access.org.